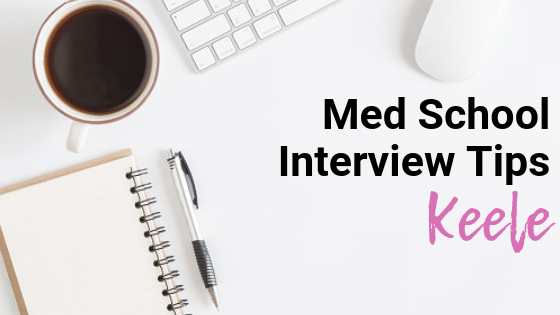 If you have been invited to attend a Keele medicine interview, then you will take part in Multiple Mini Interviews (MMIs).
Preparing for your Keele medicine interview:
1. Make sure you fill out the roles and responsibilities form carefully and thoroughly
If you meet the minimum academic entry requirements for Keele, then shortlisting for interview is done using the roles and responsibilities form, sent to you before interviews.
This is a really important form which is used by Keele to assess the experiences you have had and to get to know more about your non-academic achievements.
As this form is such a crucial part of the selection for interview, make sure you think carefully about what you write. Try to get as much information across that demonstrates your suitability for medicine at Keele. The form is assessed using the following criteria:
Commitment to paid and/or voluntary work, preferably in a caring or supportive role

The value of the work/role you undertook

The level of responsibility taken in any of the above roles

An example of a situation where you did something that had a significant beneficial outcome for another person

Any exceptional achievements or circumstances
2. Look at Keele's website to find detailed information about the roles and responsibilities form and their MMIs
Keele have a lot of information and guidance on filling out the roles and responsibilities form so ensure you read this before completing it.
Also, there is detailed information on the interview process and a useful video which is worth watching. Check out that information here.
3. Know what to expect at your Keele MMI
The MMIs at Keele include a variety of different stations such as a one on one interview, a role-play scenario and discussions on specific scenarios, so ensure you are comfortable in all these different settings. Keele assess you on the following attributes:
Motivation/experiences informing your decision to pursue a medical career

Empathy and insight

Responsibilities and challenges of being a doctor

Awareness of ethical issues in health and society

Resilience

Comprehension

Effective communication
Before your interview make sure you are happy answering questions related to these attributes and think about how you can demonstrate all these. For example, do some research surrounding current medical ethical debates/issues.
3. Be aware of the numeracy skills assessment
On the day of your MMI, either before or after your Keele medicine interview, you will be required to sit a 30-minute clinical maths test.
This test includes 20 questions and a simple calculator can be used. There are practice questions available on Keele's website and I would make sure you look at these, so you know what to expect. If you haven't done maths recently it might be worth brushing up on your basic maths skills.
4. Know your timings
For any MMI it is critical that you know the timings of each station and how long the circuit is. Each station at Keele is 5 minutes long and there are eleven stations.
5 minutes can go very quickly in an interview situation, so I would encourage you to practise discussing ideas/carrying out role- play scenarios in this length of time. Also, as there are so many stations it is really important you don't let your performance at one MMI station affect another.
Try and stay as relaxed as possible and try to forget any stations that haven't gone to plan as you move around the circuit.
Words: Rachael Foulsham
Prepare for your Keele interview with our MMI Circuit!