Thinking of studying Medicine in the USA? Unlike in the UK, studying Medicine in the USA is only available as a postgraduate option, so you can start a Medicine programme after you complete a four-year pre-med degree in a subject like Biology, Chemistry or Neuroscience.
This degree will then prepare you for the Medical College Admissions Test (MCAT), which is required to get into medical school.
This section is designed to give you information on studying Medicine in the USA – from taking your MCAT to your USMLE. Don't forget to use all of the subpages to make the most of the section.
Would you be suited to studying medicine abroad? Take the quiz!
Quiz: Would Studying Abroad Suit You?
---
Where can I study Medicine in the USA?
There are 172 medical schools in the USA which offer either a Doctor of Medicine (MD) or Doctor of Osteopathic Medicine (DO) degree – so there's a lot to choose from if you're thinking of studying Medicine in the USA.
The following universities are ranked the highest for their Medicine research:
What are the entry requirements for studying Medicine in the USA?
Requirements differ between different medical schools, so it's best to double-check these with the school themselves if you're unsure. All US medical schools, however, require the completion of a four-year pre-med undergraduate degree in a relevant subject and require you to demonstrate your scientific knowledge in areas of Biology, general Chemistry and organic Chemistry.
For this reason, many students choose to take undergraduate Biology or Chemistry programmes (and this also helps with your MCAT).
For example, the University of California requires that Medicine candidates study general Chemistry for one year with laboratory, organic Chemistry for a minimum of two quarters, Physics for one year with laboratory and General Biology for a minimum of one year with laboratory, including the study of vertebrae zoology.
They also state that students who chose to major in the Humanities or Social Sciences are also expected to take these science courses. To check the requirements of the medical school you're applying to, review their website.
A good MCAT score is also a very important requirement for studying Medicine in the USA, since it determines your acceptance into a good university. The MCAT tests your ability to think critically and your scientific knowledge, so it's crucial you put in lots of effort to revise.
It's a sensible idea to practice for the MCAT in advance. One of the best options is Magoosh, which offers full-length MCAT practice tests, customisable study schedules and tutorial videos. You can see their plans here.
You should take this test the year before you intend to start studying Medicine – so make sure you register for your MCAT on time.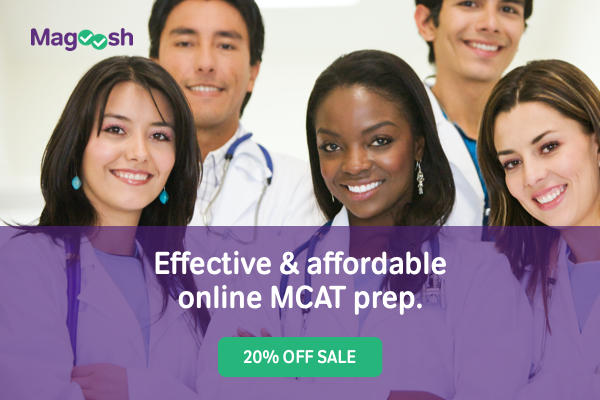 How do I apply to study Medicine in the USA?
To apply for most medical schools in the US, you'll apply using the American Medical College Application Service (AMCAS) – but if you're applying to the MD programme at Texas University, you'll need to apply using the Texas Medical and Dental Schools Application Service (TMDSAS).
AMCAS will deliver your application (including details of your work experience, coursework transcripts and extracurricular activities) and MCAT score to your medical schools of choice.
Some medical schools also ask for additional material in the form of essays or letters of recommendation. This is known as a secondary application, and there may be an extra fee for this.
The AMCAS fee to apply to one medical school is $160 – and it costs an additional $38 to add extra schools to your application. The Fee Assistance Programme is available to help students in financial need with these fees, as well as with MCAT fees.
Generally speaking, applications open in the first week of May and stay open until submission closes in June – make sure you keep an eye on the exact deadline so you don't miss it!
---
Learn more about studying Medicine in the USA: