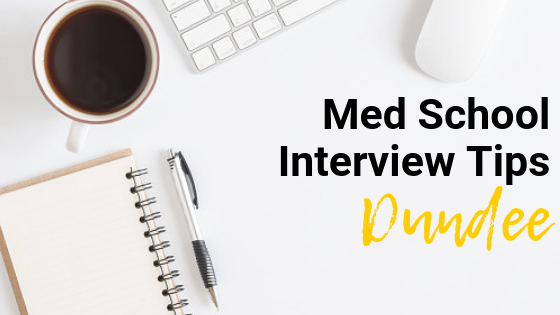 The Dundee medicine interview is in the Multiple-Mini Interview format (MMI) which consists of ten stations, each lasting seven minutes.
The first minute is allocated as time to read the instructions and once this time is up, the remaining six minutes are allocated for discussion or completion of the task. There is a great deal of emphasis placed on communication skills, problem-solving and exploration of values and skills important in medicine.
Preparing for your Dundee medicine interview:
1. Practise your acting skills
Role play tasks involve acting the part of a character in a specific context and normally provide you with an opportunity to demonstrate your empathy skills and approach to problem-solving. Practise simple communication scenarios with a friend where you can demonstrate your empathy.
Examples could be: you have arranged to go on a once in a lifetime holiday with your friend but you have had to cancel at the last minute – how would you broach this with your friend?
2. Make the most of your time to plan and structure your answer
The one minute allocated for reading time is more than enough – you will finish reading the instructions within 15 seconds. Use the rest of the time to plan and structure your answer or remind yourself of important things to include in your answer.
This short amount of time for planning will help you organise your answer logically and make it more articulate. You don't want to walk away from a station and be frustrated by not mentioning an important aspect of your work experience or an ethical positive/negative point which would score you a higher mark. Use this time wisely!
3. Research the medical school's unique selling point
The medical school know you have applied to three other medical schools. They will want you if they feel like you are the right fit for them.
Be prepared to show an understanding of the course and why this type of course suits your learning style. It's a good idea to research why Dundee is different from other medical schools. How is anatomy taught? What unique opportunities for research are provided? The medical school is based in a hospital – why is this advantageous? Scour the medical school website to gain a full understanding of the course structure and extracurriculars.
Here are some key resources for this research: you can refer to this page under the "other expectations" heading for skills assessed at interview as well general course structure and style.
You can refer to this page for information regarding the special preservation used in anatomy teaching and how this a USP of Dundee medical school.
Words: Hassan Ahmed
Prepare for your Dundee medicine interview with our MMI Circuit!