Published on 13th September 2019 by laurenwade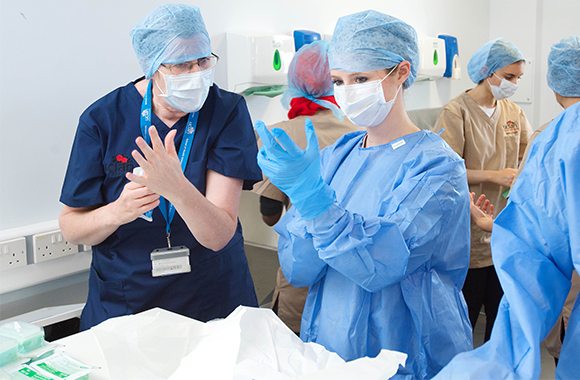 Before the alarm goes off and there you lie, sound asleep, oblivious to the hard working realities of an average medical student. An aggregate of books and notes lay strewn across the duvet; highlighters open, felt-tips leaking ink onto pages and an overwhelming number of colour-coded flash cards waging war against your memory. This is the beginning of an exciting day in the life at UCLan.
With the strident note of the alarm ringing in the air, you jolt awake. As the effects of sleep wear off, you are left in a face-to-face confrontation of any medic's arch-enemy; your to-do list. "Procrastinate or persevere?" the moral dilemma that we face daily. You have to prepare for your day in theatre, to complete reflections on your learning and your notes on inguinal hernias.
Prepare for your UCLan medicine interview with our MMI Circuit!
A day in the life at UCLan: 8am – Radiology session, West Cumberland Hospital
We, fully alert on coffee and commitment, bustle into a small conference room. One hour on axial imaging of the abdomen with each detail meticulously discussed. Our competitive edges on high, we shoot our answers with the oxymoronic combination of confidence and complete uncertainty that medical students sometimes have.
Although early in the morning of a day in the life at UCLan with the sun just rising, the session cues an ample amount of laughter amongst our friendly group. We mock our own idiocy and pride ourselves on the occasions we are correct. The high of an accurate diagnosis is unparalleled.
Read 7 Tips for Keeping on Top of Your Workload in Medical School
A day in the life at UCLan: 9am – General Surgery theatre rotation
Keen and enthusiastic, we scrub in. Prior to surgery, we engage in quick fire questions with the surgeon on anatomical details and while we assist the learning continues: "Identify this muscle", "Where is the genitofemoral nerve located?". Medical students thrive on challenge and respond to the thrill of learning.
Read 5 Secrets of Surviving First Year of Medical School
A day in the life at UCLan: 1pm – Bed-side teaching
We eagerly follow the consultant as she sees patients on her ward round; all the time highlighting key features: "That's a case of shingles there", "These are Kerley-B lines, sign of heart failure". We nod our heads in certain agreement, but I can assure you, Kerley-B lines are difficult to spot!
Read 5 Things to Know Before Choosing a Med School
A day in the life at UCLan: 2pm – Ambulatory care, West Cumberland Hospital
Entering the ward with a bout of energy and excitement ringing in every word as I said "I'm the medical student placed here today." With this I'm asked to help with clerking six patients. This can feel a little scary but as I called out my patient's name with a slight tremble in my voice I thought, "Don't be scared, it's going to be fine. You've got this". My first patient had right upper quadrant pain with suspected cholecystitis. Once I began doing the abdominal examination, it felt routine; any nervousness subsided and I was in my element.
Read 4 Ways to Prepare for Your Medical School Workload
A day in the life at UCLan: 6pm – Hospital corridor
There, at the end of a day of learning and a day in the life at UCLan we are exclaiming with pride our findings of the day, exchanging facts we learnt and debating (to put it diplomatically) over medical management. We sat there laughing and passionately arguing. That moment, is my daily epiphany; I love being a medic.
There is enthralling passion, driven commitment and striking ambition in medicine. We are going to be doctors one day. That sole thought is sufficient. It's all worth it.
Read 10 Things You Might Not Know About Life at Medical School
For further information about studying Medicine at UCLan visit the MBBS web page, call +44 (0)1772 895024 or email: [email protected]
Words: Vandana Venkateswaran, MBBS Student, University of Central Lancashire
This post was created as part of a sponsored collaboration with the University of Central Lancashire (UCLan)
Read more: