Get a better understanding of what a Doctor does while you're on your journey to
deciding if Medicine
is the right fit for you.
What Do Doctors Do?
A medically trained Doctor is a person who is responsible for diagnosing, treating and caring for patients. In the UK, Doctors are required to hold a valid license to practice and be registered with the GMC (General Medical Council).
Working in Medicine offers opportunities for a range of challenging and rewarding career options. A life as a Doctor might involve being based full-time in a hospital, working as a GP in a tight-knit community, or even working to influence public health policy.
There are over 60 specialist fields in the NHS that a Doctor can choose to specialise in, so there are many answers to what you could be doing once you become a Doctor.
Different Types Of Doctors
There are a variety of different types of Doctors and specialities:
Junior Doctors: Med School graduates undergoing a two year clinical training course (the 'foundation programme').
GPs: General Practitioners, usually based in communities and primarily responsible for seeing patients outside of hospitals.
Consultants: Doctors who have completed a minimum of six years training in their specialty field and can practise independently. They are required to carry out continuous education in their specialty through a system known as 'CPD'.
SAS Doctors: Also known as Staff Grade, Associate Specialist and Specialist Doctors. They are senior Doctors in fixed posts, who hold four years of postgraduate training (including two in their relevant specialty).
Senior Doctors: Able to practise independently and unsupervised.
How Do You Train To Become A Doctor?
Once you get into Medical School, you'll study for between four and six years. After graduation, you then apply to foundation posts and complete the foundation programme, working under a mentor's supervision. At this point, you'll choose whether to become a medical Doctor, become a surgical trainee, or train to be a GP.
The exact time frame to being a fully qualified and unsupervised Doctor varies, as family-planning, career breaks and examination stumbling blocks can delay the process. As rough guidance, post-foundation programme, the GP training programme takes a minimum of three years, whilst other specialist training can take up to eight years.
The journey is outlined in this graphic: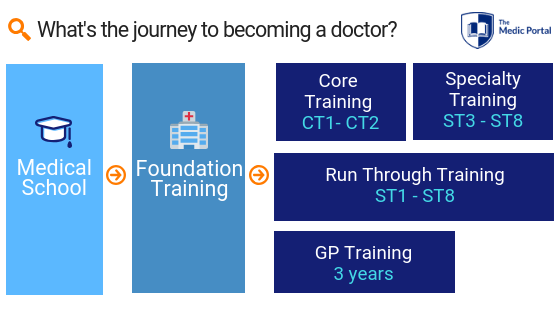 Step 1: Medical School
Completing a medical degree is the first step to a career in Medicine and can take four to six years, depending on whether a student enters their studies straight after A-Levels or as a Graduate. During the final year of studies, students must also prepare to take a Situational Judgement Test (SJT), which is required to apply for the Foundation Programme.
Curious what to expect from Medical School? Check out our guide to surviving your first year of Med School.
Step 2: Foundation Programme (F1- 2)
The next step is to complete a two-year training programme so you'll develop professional and clinical skills in a practical setting. At this stage, graduates become Junior Doctors – not yet qualified to practise unsupervised but taking on greater responsibility for patient care.
Step 3:  Specialise
After FT1-2, Junior Doctors begin to choose specialties. Crucially, there are a few entry points for specialties and further opportunities to sub-specialise, but this is a rough guide to what further training might look like:
Run Through Training. This is 

uninterrupted training that commences straight after the foundation programme. Doctors begin their specialty training year one (ST1), and progress to ST2 and ST3 as long as all the requirements are passed. Programmes can last around 3 years for General Practice, and 5-7 years for other specialties. This type of training is useful for those who decide on a specialty early on in their careers.

Uncoupled Training. This mode of training means a period of core training, followed by competitive entry to further specialty training. The majority of hospital physician specialties are uncoupled. Uncoupled options include emergency medicine and psychiatry. Forms of uncoupled training programmes are divided into two: core training and ACCS (an alternative core training programme).
Core Training: CT1 & CT2. This is a form of uncoupled training, where Doctors complete a core training programme lasting 2-3 years after their foundation years, before entering specialty training. At this time, Doctors select an area of Medicine in which they wish to specialise. The choices are between general practice (GPST), surgery (CST) and Medicine (CMT). CMT/CST trainees go through various rotations before attaining a specialty training post.
Specialty Training: ST3-8. This is where Doctors compete for appointments to higher speciality training posts according to their field of choice. Training lasts between 4-6 years depending on speciality choice, and further advancement depends on successfully completing assessments.