Published on 17th February 2020 by Premela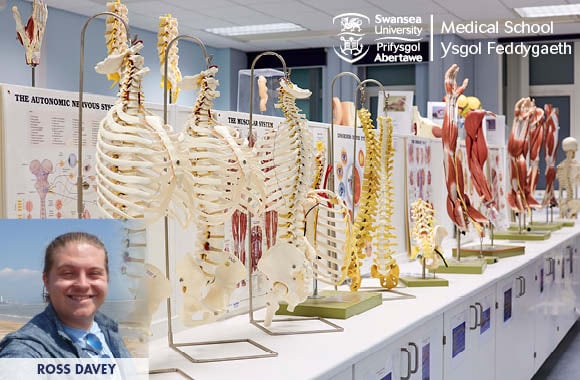 I chose to study Medical Biochemistry at Swansea because I was eager to learn more about our intricate bodily processes. After starting my degree, I began to think about what I wanted to spend the rest of my life doing and, honestly, I wasn't sure where to begin.
I knew I wanted to further my understanding of the human body, but I also liked the idea of using this information to help people when they were at their most vulnerable. I began to assess my options and, after careful consideration, started to look at Graduate Entry Medicine as a possible next step.
This led me to Swansea's "Pathway to Medicine", a new addition to the undergraduate degrees taught at the Medical School. Run by clinicians and guest lecturers, this Pathway is designed to improve a student's understanding of medicine as a career, whilst developing key interview skills.
As if this wasn't appealing enough, the prospect of potentially securing a guaranteed interview for medicine here at Swansea University (a top UK medical school) certainly was! So, as soon as I confirmed I met the criteria, I signed up.
The Pathway didn't disappoint. The clinician-led seminars provided an open platform to explore the nuances of clinical practice and the impact of medicine (or surgery) has on ones' life outside of patient care.
We delved into the realities of practicing medicine, ranging from the annual appraisal and revalidation processes doctors complete to the challenges faced by different branches of medicine and the NHS.
The placement I undertook in an acute assessment unit as part of this Pathway was an excellent opportunity to be involved in a patient's healthcare journey, giving me a chance to observe consultation methods which embraced shared-decision making and promoted patient-centred care.
Alongside encouraging me to reflect on my clinical experiences, I also received advice regarding my personal statement and interview techniques. One common misconception amongst applicants is they need to spend an obscene amount of time shadowing a doctor, though this really isn't the case. The phrase "quality over quantity" helps explain why.
Interviewers DO NOT want to know how long you followed someone around for. Rather, they DO want to know if you have learned more about yourself or the profession, through your reflections. However, spending sufficient time in both primary and secondary care does provide useful insight for your interviews.
In addition, many candidates consider rejection on their first attempt as an abject failure. This is simply not the case. Entry into medicine is highly competitive. At interviews, candidates are scored and ranked accordingly with universities having a limited number of places to offer.
Not receiving an offer first time around, doesn't mean you aren't cut-out to be a doctor – it just means that your performance on that single day wasn't quite enough. That's all. If nothing else, applying again will help you demonstrate resilience at future interviews.
Going forward, I secured interviews at two other institutions as well as gaining my guaranteed interview for Swansea. This is where I found the content covered, along with advice and support from staff, to be greatly beneficial.
Preparing me perfectly for my interviews, I consider it to have played a significant role in gaining three offers to study medicine! I genuinely believe that it is because of these opportunities I received, that I am now on my journey to fulfilling my goal of, one day, becoming a doctor.
This post was created as part of a sponsored collaboration with Swansea University Medical School.
Applying to Medicine? Book a space on our Interview Course!
Book an Interview Course