Published on 27th August 2019 by laurenwade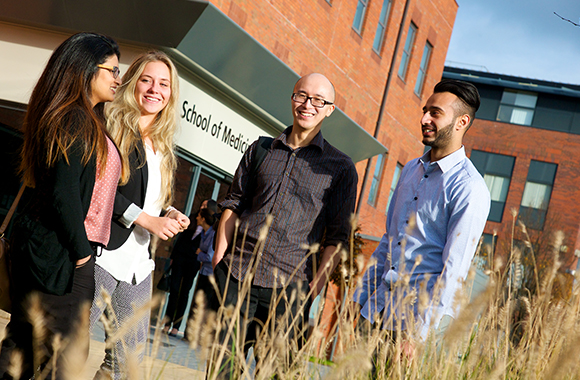 The first few days at medical school are some of the most nerve-racking days you will experience. A new environment, new challenge, new life, and some very intelligent peers sat on your right and left. If you're looking for tips for starting medical school, you've come to the right place!
My name is Dean, I am a third year medical student at the University of Central Lancashire (UCLan) and here are five of my top tips to help you get through the first few days of medical school.
Prepare for your UCLan medicine interview with our MMI Circuit!
Looking for example questions? See over 100 medical school interview questions and answer guides in our FREE Interview Question Bank>>
1. Embrace the moment
Congratulations, you have done it! You have got that one place in medical school that another one thousand people were after. Embrace that moment, be proud of yourself, and walk in with your head and shoulders held high ready for the new challenge.
Remember why you are there. The medical school see you as a doctor in training and one they can rely on, so use this as a confidence booster to help you get through the first few days.
2. Get to know your peers as soon as possible
You may be nervous, but the person sat beside you may be even more nervous. Get to know the people around you, make friends and build relationships as soon as possible.
These people are going to be with you during difficult times for the next five years and beyond, so start supporting each other straight away. Who knows, you might meet your future best friend, partner or work colleague.
3. Staff are there to help
I remember starting medical school and looking at the staff, all very successful doctors, nurses, professors and more; I was so afraid to talk to them out of the respect I had for their careers.
However, I could not have misjudged the situation any more. They may be at the top of their game, but they are all so friendly, down to earth, a good laugh and simply want to help you get through medical school as best as possible. So get to know the staff, and use them whenever you need help or someone to talk to.
4. Go to all the events
Within the first few days of medical school, there will be plenty of social and networking events to attend, such as freshers' fairs, society inductions, sports club inductions, nights out and trips away with the staff and students.
My advice is to go to all of these, make more friends, join clubs and get to know people. Everyone is in the same boat, and the university is simply creating many different ways of ice-breaking events to help you settle in.
5. Enjoy the first few days whilst it lasts
The first few days of medical school will be an undoubtedly exciting time – lots of fun-filled activities, meeting new people, learning about what you will be doing over the next five years, seeing the facilities, joining the clubs and having nights out. Enjoy this!
It goes by very quickly, and before you know it, you will be working extremely hard, spending a lot of time in the library and preparing for your exams.
We hope these tips for starting medical school prove to be useful, enjoy your time at medical school!
Words: Dean Hardy (MBBS Student, University of Central Lancarshire)
For further information about studying Medicine at UCLan, visit the MBBS web page, call +44 (0) 1772 895024 or email: [email protected]
This post is part of a sponsored collaboration with UCLan
Read more: