Published on 12th November 2019 by laurenwade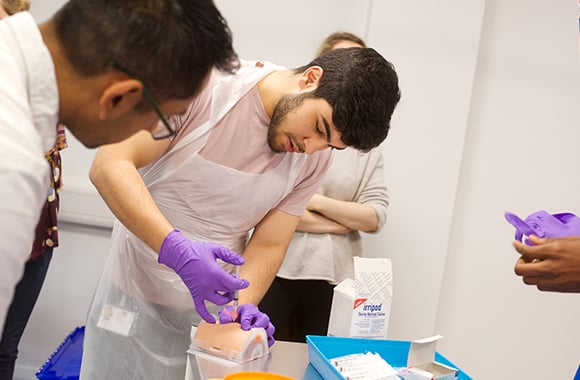 Nitish Trikha is a third year MBBS student at the University of Central Lancashire (UCLan). Originally from New Delhi, he lived in Singapore for nine years before moving to Preston in North West England to study medicine. He tells us about his experience starting university to study medicine in the UK.
1. How did you find preparing to study abroad?
Preparing for a new phase of my life and starting my MBBS course at UCLan was a daunting task, I felt overwhelmed regarding visa preparation, CAS letter collection and travel. However, the university website and staff were very informative and supportive to help with the smallest confusions and relieve my initial tension.
2. How easy was your journey to UCLan?
Arriving at university was extremely simple through the dedicated UCLan bus arrangements from Manchester Airport as well as frequent and direct trains. Preston's close proximity to Manchester and Liverpool and with direct trains to London, Glasgow and Edinburgh make it one of the best places to live in the UK.
The city recently received a purple flag status for student safety and is very diverse with people coming from all walks of life. That was a huge plus point for me coming from India and Singapore, as I could still find Indian restaurants with plenty of options to eat and did not have any difficulties in finding grocery stores. In my opinion, Preston has the perfect balance between a student friendly study environment and a lively and happening place.
3. What has studying medicine at UCLan been like?
University has been a great experience, I have made new friends, learnt new sports and I am developing the skillset required to be a good doctor. The tutors are extremely friendly and supportive and constantly update their information with respect to changes and advancements in the medical field. The MBBS cohort includes a lot of international students as well as local students and our interactions help us learn from each other. Many of the difficulties that I faced while adjusting here have been resolved through seeking advice from my friends and tutors.
I really like the fact that staff are concerned about each and every student's understanding of the different aspects of medicine and the healthcare setting. There is a focus on presenting yourself as a good doctor, speaking effectively with patients and utilising your knowledge to think outside the box. Understanding how the healthcare system works is very helpful in preparing us for any healthcare setting or situation in any country.
4. What have you enjoyed about your university experience so far?
One of the benefits of studying at UCLan is the free gym membership included as part of your studies. It can be difficult studying to be a doctor so it is important to exercise and feel refreshed through your study break. Finally, I would advise any prospective students to make friends from other courses as well as medicine in order to help you gain different perspectives and explore new ideas whilst you study medicine in the UK.
Words: Nitish Trikha, MBBS Student, University of Central Lancashire
This post was created as part of a sponsored collaboration with the University of Central Lancashire (UCLan).
For further information about studying Medicine at UCLan, visit the MBBS web page, call +44 (0)1772 895024 or email: [email protected]
Prepare for your UCLan medicine interview with our MMI Circuit!
Read more: