Published on 10th July 2020 by Premela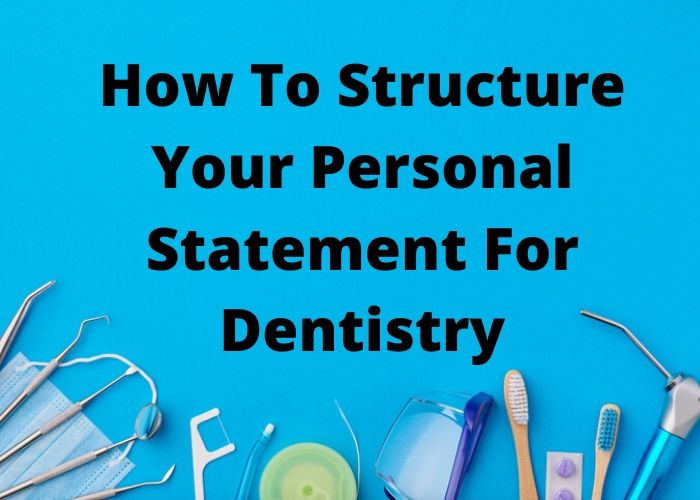 Personal statements are often used by admissions tutors in differentiating between candidates in different stages of the admissions process, therefore your personal statement can be a crucial factor in the admission team's decision.
It can be hard to include all the points you want to make within 47 lines (or 4000 characters), but a good structure to your personal statement will provide an excellent framework to portray yourself as a good candidate for dentistry.
Each paragraph should serve a strong and specific function so that your personal statement is clear and easy to understand.
This article will discuss a general framework you can refer to while writing your personal statement. Below is some great advice to help you structure your personal statement.

1. Introduction
Admissions tutors are looking for candidates that are able to demonstrate their motivation to study dentistry and the introduction of your personal statement is the best place to convey your interests and commitment.
You can choose to highlight the specific aspects of a career in dentistry which appeal to you and relate a specific situation from your work experience which you can then link to why you would like to study dentistry.
As the admissions team will be reading multiple personal statements in a day, it is of utmost importance to draw your reader in from the get-go.
To do this, a personal anecdote is a good way to immerse your reader into your journey and infuse some individualism into your personal statement.

2. Work Experience
Your personal statement should show that you have undertaken steps to find out more about dentistry, and it is highly important to show that you discuss what you have learnt and reflected upon them.
It is recommended to include your reflections from work experience, and there are many different things that you can reflect on. Here are some questions which you can ask yourself:
What skills did the dentist possess, and what did you learn through them about healthcare?

What are certain key attributes dentists must have (such as empathy, communication and teamwork), did you have any incidents where the dentist demonstrated these attributes?

What challenges do people working in dentistry face daily?
3. Academic Achievements
As dentistry is a scientifically heavy course, it is vital to show evidence of your interest in science and eagerness to learn.
A way to demonstrate this would be to write about a topic that you are interested in. Your topic of interest can be from your A Level or undergraduate syllabus, or from a case that you observed during your work experience.
For graduate entry applicants, you can include academic prizes or research that you have been involved in.
After writing about your topic of interest, you can further reflect on why you found this topic interesting, and how this links back to your motivations to apply for dental school.

4. Other Achievements
In your previous paragraphs, you will have acknowledged that there are certain key attributes that a dentist should possess. By acknowledging the importance of these transferable skills, you will be able to show that you understand the requirements of dentistry, and you have developed the skills described.
This section will be a good place to display these attributes. Due to the UCAS limit of 4000 characters, it is of utmost importance to be specific and succinct about when you have shown these attributes. Here are some questions you can ask yourself:
5. Conclusion
As the last paragraph of your personal statement, the conclusion should help sum up your points you have brought up and provide closure to your personal statement. Therefore, you should refrain from adding new content in your conclusion.
A good way to make an impact with your conclusion would be to link it back to your introduction. Through this, you will be able to remind your reader about your motivations for doing dentistry to reinforce why you are a suitable candidate.
Written by: Isabel Chan
---
Already written a first draft of your dentistry personal statement? Check out our Personal Statement Review service!
Get Your Personal Statement Reviewed By An Expert
---
More on Dentistry: