Published on 5th February 2019 by lauram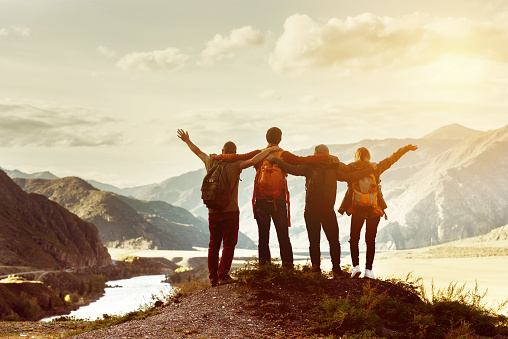 Duke of Edinburgh is something most of you will have done at various different levels and you'll probably be wanting to use it into your medical school application in some way.
There's no advantage to mentioning the DofE if you just briefly mention in a short sentence somewhere "I have got my Bronze DofE award" because almost every applicant would have done the same.
If you mention the DofE you want to talk about specific things, show what you've learnt from it, and of course, link it to Medicine! Here are some ways you can do exactly that…
Sitting the UCAT this year? Book a space on our UCAT Course!
Find out more about UCAT Courses
The Expedition
Let's start with this section seeing as it's the one that most people mention and also the one that most people think of when referring to the DofE. There are a lot of things you can learn from it, mainly around leadership and teamwork.
Think about the positives and negatives surrounding the team dynamics of your group. Did you run into any problems or challenges during the expedition and how did you resolve them? What was your role within the team? Were you able to look out for your fellow team members?
You would have also had an opportunity to lead the group for part of the walk, so reflect on your own performance as leader and how you feel your strategy could have been improved? What were your responsibilities as the leader? Why was that important for the particular task you were doing? It's all about self-evaluation and showing an appreciation for the importance of these qualities!
Read how to use your EPQ in your medicine application>>
Volunteering Section
Any form of volunteering is great for Medicine. For my DofE I spent time volunteering at a hospice – and obviously this has a clear link to Medicine, but the place of volunteering doesn't necessarily have to be medically related for you to be able to mention it.
One of the main things that volunteering is really good for is showing your commitment, especially if you carried on for a long period of time. I know a lot of people continue the volunteering role that they started as part of the DofE, so if you've been doing something for six months to a year, or even longer, definitely write about it and make sure to mention the timescale!
Read more tips on how to apply voluntary work to medicine>>
Skills Section
The skill you chose to learn can be quite often linked to Medicine so show how that would make you a better doctor in the future. Perhaps you chose to learn sign language. I decided to spend time learning a new language, which of course would be helpful.
Teaching children is another skill you might have decided to learn and that would be worth writing about – as being able to teach others is a useful skill in the medical field; at almost every stage of your career you'll be expected to some form of teaching with your juniors. Even if you can't see the relevance of your skill to Medicine, consider whether it's something you enjoyed that may have developed into a hobby.
Read more tips on how to demonstrate desire to teach and learn in your medicine application>>
Physical Section
Most people find various forms of sport as a good form of relaxation. You may have learnt that by spending six months playing football as part of the physical section of your DofE that it was a good stress reliever.
Think about the physical activity you chose to do and ask yourself: did it help you to relax? Did it help you to maintain a good work-life balance? The physical section is also important due to the fact that that you're maintaining your own health and wellbeing, which is something that is drummed into you when you start medical school. Did you continue any of the physical activities you took on?
As you can see, there are many ways you can give specific examples and show self-development when talking about the DofE, so make sure you don't just merely state your completion of the programme – that'll hold no weight!
Masumah is a 1st year medical student at the University of Manchester. She writes a blog documenting her experience through medical school and also giving tips to aspiring medics: lifeofamedic.com
Want more application tips? Read more: