Published on 8th October 2019 by LeighanneM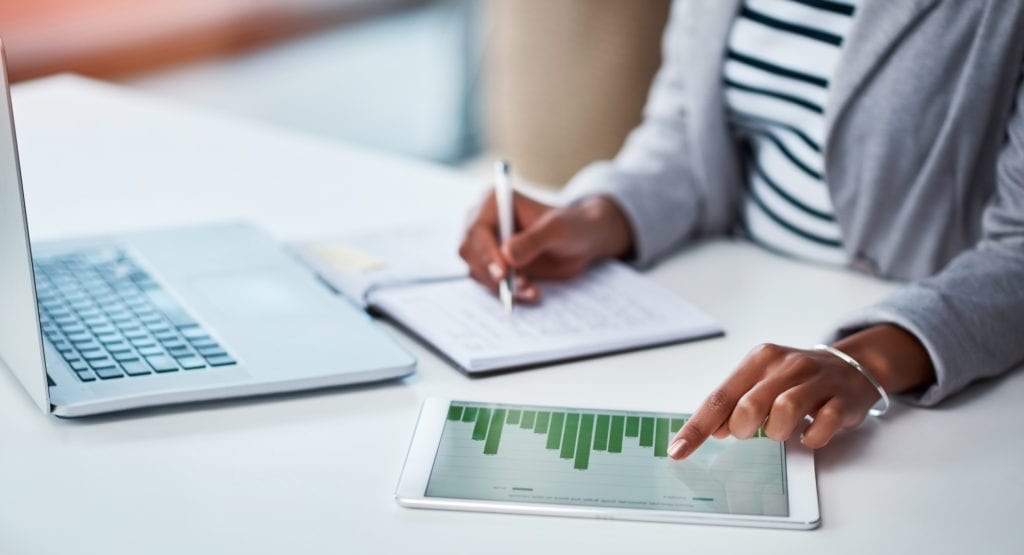 ---
Please note that this blog is just a guideline and we recommend conducting your own research and contacting the universities themselves before making any significant application decisions.
---
Scored between 650-680 on your UCAT and unsure where to apply?
One very common question I'm asked as a UCAT tutor is what most medical schools look for in a UCAT score. This is not an easy question to answer. Scores fluctuate year on year, and what some medical schools might consider an amazing score, others might be considered too low.
However, quite a large proportion of UK medical schools are looking for scores somewhere in between 650-680. So – what are they?
Good UCAT score university options:
St George's University of London
St George's is one of the few medical schools that uses a minimum cut off for each of the cognitive sections in the UCAT. To secure an interview, applicants must achieve a certain overall score plus a minimum in each of those four sections.
You will need to score at least 500 in Verbal, Quantitative and Abstract Reasoning, and Decision Making. The overall score needed will only be determined once applications are submitted, but for the overall score was 2490 for 2019 entry,2590 for 2018 entry, 2600 for 2016 entry and 2550 for 2015 entry. This equates to about the top 45% of those sitting the UCAT.
As you can see, last year's cut off score is considerably lower than previous years, it is difficult to say if this is a one-off or a result of the extra places available at UK medical schools, reducing competition.
Based on previous years, an average score of around 640-650 is needed here to be fairly sage. The SJT is not used. UCAT will not be used further once a student is invited to interview but may be used to rank any students put on the waiting list for offers.
Exeter
The main component used by Exeter when selecting for interview is predicted grades. Applicants are tiered depending on their A-Level grades or predictions, shown below. Achieved A-Levels are favoured slightly overpredicted grades. Those in the top tiers are invited to interview.
When there are too many candidates in a tier for the number of places, then the overall UCAT score is used to rank students from that tier. The UCAT score needed for interview in such a tier varies year on year. For 2018 entry all in tier 1 received an interview, regardless of UCAT score. For tier 2 a score of 2670 or higher and was needed. This would equate to a UCAT score in the top 30%.
| Rank | Grades Achieved | Grades Predicted |
| --- | --- | --- |
| Tier 1 | A*A*A* | |
| Tier 2 | A*A*A | A* A* A* |
| Tier 3 | A*AA | A*A*A |
| Tier 4 | AAA | A*AA |
| Tier 5 | AAB | AAA |
Southampton
In the first stage of selection at Southampton, applicants will be ranked based on their total UCAT score. Then in the second stage, they will be screened against the medical school's academic criteria. Those who meet the criteria and have an 'appropriate UCAT score' will be invited to interview.
Southampton also says 'selectors will look for evidence of non-academic criteria during the application process'. This will be assessed at the interview. However, the personal statement is not assessed. The SJT is not used.
Offers are determined based on performance at interview, which is reviewed alongside the UCAT score.
Since Southampton is ranking using UCAT, this is the key factor in determining the likelihood of an interview. For 2019 entry, the lowest score invited for interview was 2510. This score was then 2580 for 2018 entry. Since academics are just used as a screening process, it does not appear to be of particular importance.
St Andrews
St Andrews comments "to be considered for interview applicants must have a strong academic record, a positive reference and relevant, medically related work experience. Applicants meeting these requirements will be ranked on the basis of their UCAT global score. Those ranked in the top 400 or so will be given an interview."
The personal statement and reference may be read, but not scored. The key hurdle before the interview will, therefore, be your UCAT score. The average overall UCAT score for 2016 entry was 687.5, in the top 20% of those sitting the UCAT.
If you score below 690 then St Andrews is still an option (remember 687.5 was just an average). In fact, the lowest score for an applicant called to interview for 2018 entry was 2410! They rank you based on your interview score (which incorporates the SJT). If there are many applicants towards the bottom of the ranking, with the same interview/SJT score, they then use the global UCAT score to differentiate between them. You can find out more here and here.
The score needed to secure an interview is dependent on both the fee status of an applicant and the pathway to which they are applying. It is possible to apply to either the England route, the Scottish route, or either. This corresponds to whether students spend the clinical years of their medical degree in England or Scotland. As each route has differing numbers of applicants, the minimum UCAT score needed for an interview will also differ. As for fee status, applicants are also divided into Scotland, EU, Rest of UK and overseas. The table below summarises the lowest UCAT score invited to interview for the different fee statuses and pathways: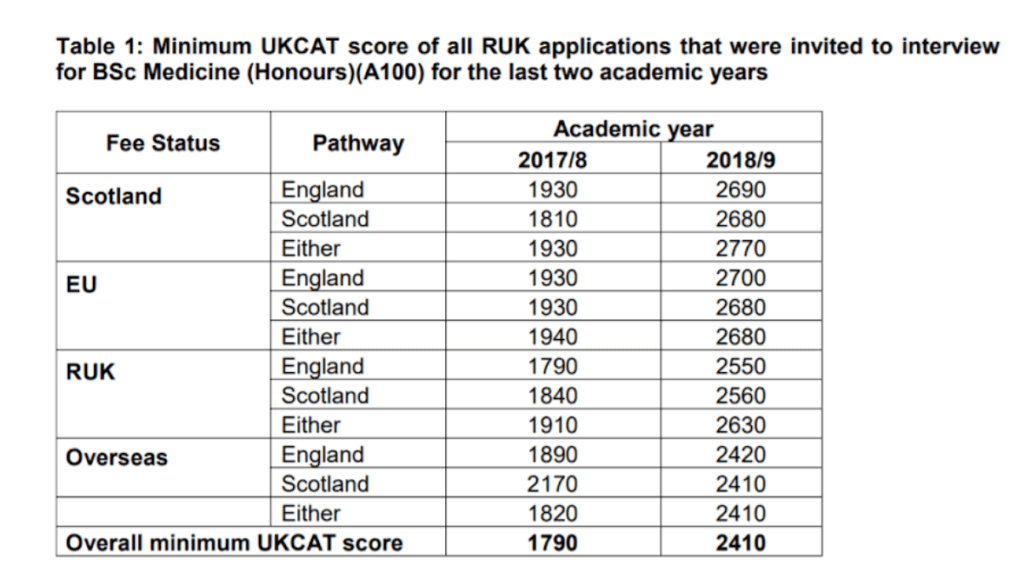 Read part two of our 'Where to Apply with a Good UCAT score' blog, where we look at a range of other medical schools that favour this type of UCAT score.