Published on 19th September 2016 by Roya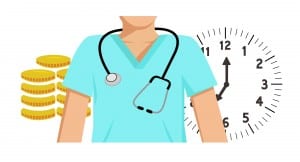 The Junior Doctors Contract saga has been running for at least 3 years, amidst public and media scrutiny and opinion.
The Department of Health (DOH), in the construction of this new contract, were guided by the Review Body on Doctors' and Dentists' Remuneration (DDRB), who looked at certain criteria, such as aiming for improved patient care and affordability.
Doctors who are affected by this junior doctors contract are training doctors: on a specialty training path to become a consultant or a General Practitioner. So it is somewhat misleading to label these as the 'junior doctor' contract, as the changes would affect quite experienced doctors.
What are some of the proposals of the new junior doctors contract?
Pay
The system of pay and hours will be overhauled in this new junior doctors contract. Basic pay will increase by 10-11% on average. However, extra pay will now be determined by on-call and weekend 'allowances', which are seen as much more complex than the old system.
Some undersubscribed specialties, such as psychiatry and emergency medicine, will also have the benefit of Flexible Pay Premia (£20000 spread over a training program) to attract doctors to come and work in these specialties.
Whistleblowing
Most workplace contracts have provisions for protection against unfair dismissal of an employee if they whistleblow (that is, if the employee tells management/someone else about any unsafe practices/concerns). After extensive negotiation, the new contract will now aim to protect junior doctors from any unfair consequences that arise from whistleblowing.
Guardian of Safe-Working
If hospitals make junior doctors work more than 72 hours over a week, they can now be fined. This is facilitated by a new role at hospitals, the Guardian of Safe Working. The money from these fines will go into training and development of the junior doctors.
What are the concerns of this new junior doctors contract?
Patient Safety
One worry is that the new junior doctors contract will impact on patient care. There would likely be more weekends and night shifts to do, with the same number of junior doctors doing them. Doctors are always happy to do night and weekend shifts, but many feel that overworking can lead to burn-out, stress, and tiredness, which might lead to them not being able to provide the best care possible for patients.
Pay
Many junior doctors feel that the potential increase in work in antisocial hours is not properly reflected by the increase in pay. Some junior doctors feel that they will be paid only a bit more for much more work.
Equality
There were concerns that the earlier drafts of the new contract discriminated against those took maternity leave, or those who took time out of a training programme to pursue academic research. These groups would have lost their pay progression if they were to take time out for these legitimate reasons.
What action has been taken?
In November 2015, junior doctors voted in favour of 98% to reject the proposed contract. Historic strikes occurred on in the first half of 2016 whilst further negotiations between the British Medical Association (BMA – the union for doctors) and the Department of Health continued until present. The democratic position of the junior doctors remains one of rejection of the new contract.
What next?
The DOH, have plans to roll out the new contract over the next year in phases, to different specialties. The BMA however, are currently advising their members to not sign any new contract provided to them, as negotiations between the BMA and the Department of Health are still ongoing. Looming over all this is the further threat of industrial action in October, November and December. The majority of public opinion stands on the side of the Junior Doctors, but for how long?
Some helpful links:
British Medical Association FAQs
Uploaded by Abs on 23 September 2016