10th November 2023
Studying Medicine abroad may be daunting – but where do you start with researching your opportunities, as well as requirements and fees? Here are the basics of studying Medicine in the US that will set you on track with the
essential preparation process.
Where Can I Study Medicine In The US?
There are 154 medical schools offering an MD degree in the US and 38 medical schools offering an osteopathic medical degree – so there's lots to choose from if you're thinking of studying Medicine in the US.
The following universities are ranked the highest for their Medicine research:
University of Pennsylvania
Tie between:

Duke University, Stanford University, University of California (San Francisco), Vanderbilt University, Washington University in St. Louis
Tie between:

Cornell University, New York University, Yale University
What Are the Requirements For Studying Medicine In The US?
Requirements differ between medical schools, so it's best to double-check these before you apply. All US Medical schools, however, require the completion of a four-year pre-med undergraduate degree in a relevant subject and require you to demonstrate your scientific knowledge in areas of Biology, general Chemistry and organic Chemistry. This differs from medical schools in the UK where you can study Medicine as your first degree.
For this reason, many students opt to take undergraduate Biology or Chemistry programmes which also helps with the MCAT exam.
The MCAT exam is the entrance examination used by almost all Medical schools in the US. The MCAT is an 8 hour, multiple choice exam, split into four sections. Further details about the MCAT exam can be found here. A good MCAT score is very important in your application and will improve your chances of getting invited for an interview.
There are some limitations on how many times you can take the MCAT exam:
3 times in a single testing year

4 times in a two year consecutive period

7 times in a lifetime
It is therefore important to practise MCAT in advance – resources are available here.
Universities require differing levels of experience with relevant scientific subjects. For example, the University of California requires students to have completed a one year course each of Biology with laboratory, Chemistry with laboratory, Organic Chemistry with laboratory and finally one semester each of Biochemistry and Physics. Additional requirements include taking the MCAT within 3 years of application and having a minimum GPA of 2.94 in their undergraduate degree.
Finally, most Medical schools will also use an interview as part of their selection process.
How Do I Apply To Study Medicine In The US?
For most medical schools in the US, you'll apply using the American Medical College Application Service (AMCAS) – but if you're applying to the MD programme at Texas University, you'll need to apply using the Texas Medical and Dental Schools Application Service (TMDSAS).
AMCAS will deliver your application (including details of your work experience, coursework transcripts and extracurricular activities) and MCAT score to your medical schools of choice. This is comparable to the UCAS application system in the UK.
Some medical schools also ask for additional material such as essays or letters of recommendation. This is known as a secondary application, and there may be an additional fee for this.
The AMCAS (2024) fee to apply to one medical school is $175 (£143) and each subsequent medical school costs an additional $45 (£37). The Fee Assistance Programme is available to help students with these fees, as well as with MCAT fees.
Generally, applications open in the first week of May and stay open until submission closes in June – so make sure you keep an eye on the exact deadline!
In the UK, students can only apply to a maximum of four medical schools each year, however, in the US there is no maximum. Many students choose to apply to as many as 15-30 different schools, which helps with optimising chances of acceptance. On the downside, this can be quite pricey due to the additional application cost for each school.
Can UK Students Study Medicine In The US?
The short answer is yes, but it is relatively long and expensive compared to studying in the UK.
Firstly, as stated above, all US medical programmes are postgraduate and thus you need to have obtained an undergraduate degree prior. This is in contrast to the UK where most programmes are undergraduate. However, a slight caveat to this is that the vast majority of US medical schools will only accept a US undergraduate degree due to the fact that their curriculums are different to other countries. Therefore, if you want to study medicine in the US, you will probably have to do your undergraduate in the US as well.
It is worth bearing in mind that tuition fees for international students are usually more expensive than for home students, combining this with the fact that you will do at least eight years of study in the US, the total sum is likely to be extremely high! A more in depth breakdown of tuition costs in the US is available below.
Additionally, although US medical programmes are, in themselves, competitive, most schools have a quota limiting the number of international students they accept. This means that it is likely even more competitive to be accepted at a US medical school as a UK student.
Finally, you will need a visa to study in the US, the most common being the J-1 visa. This adds additional administrational requirements in preparation to studying in America.
How Much Does It Cost To Study Medicine In The US?
To study Medicine in the US, students need an undergraduate degree first, most likely also from the US as well. American undergraduate courses are typically four years long while Medical programmes are also four years long, amounting to eight years in total. Tuition costs vary between individual universities in the US, in comparison to the UK, where all courses are standardised at £9,250 a year. It is worth noting that scholarships and financial aid are often available.
While tuition fees are the same both for international and home students at private US universities, they vary between public schools, which have two categories of fees:
On average, fees for undergraduate programmes in the US typically range between $25,000 (£20,460) and $45,000 (£37,000) per year. Across the four years, this may cost you between $100,000 (£81,849) and $180,000 (£147,200).
Postgraduate US Medical programmes charge between $52,000 (£42,500) and $85,000 (£69,500) per year. Across the four years, this may cost you between $208,000 (£170,000) and $340,000 (£278,000).
Here is an example of annual fees at US Medical schools according to Education data: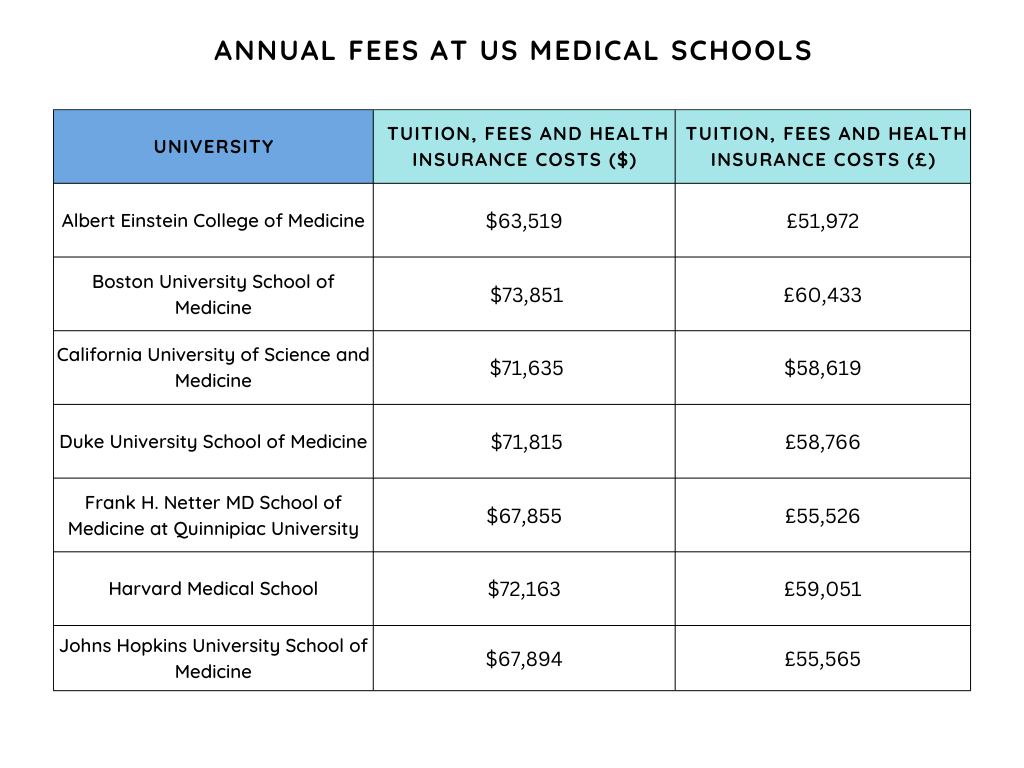 Therefore, across both degrees, you can expect to be paying between $308,000 and $530,000 in tuition fees alone!
In addition, there are fees for taking the MCAT entrance examination for medical school and the USMLE tests throughout your studies – there's more information on that here.
Lastly, you should consider the cost of travel to and from the US and living costs for the years you will be there. Although that would greatly vary depending on your personal circumstances and accommodation choices, students should expect to pay around $25,000 (£20,460) for living expenses. At Albert Einstein College of Medicine, the estimated amount is $23,500 (£19,232) while Johns Hopkins University estimates it at $30,932 (£25,315).
---
Learn more about studying Medicine in the US: