Published on 6th February 2018 by lauram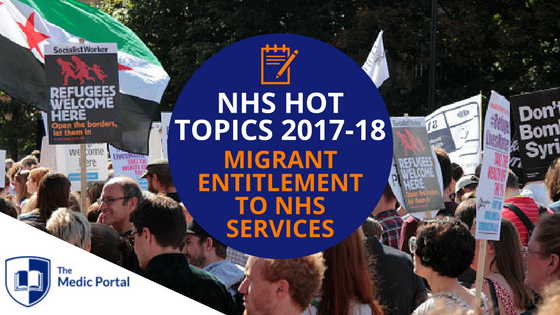 How much do you know about migrant entitlement to NHS services? In this NHS Hot Topics blog, we explore the Immigration Act, 'health tourism' and how migrants can access healthcare services provided by the NHS.
Preparing for your interview? Book a space on one of our last few Interview Courses!
Book an Interview Course
Definitions
Migrant – a person that lives and works outside their country of origin
Refugee – a person who has been forced to leave their country to escape war, persecution, or natural disaster
Detainee – a person held in custody, often for political reasons
Asylum seeker – a person claiming to be a refugee whose claim has not yet been validated. They have fled their country of origin as they have a well-founded fear of persecution because of their race, religion, nationality, political belief or membership of a particular social group
Health Tourism – when people travel to a country that is not their own with the intention of obtaining medical treatment
In a Nutshell
The Immigration Act 2014 is a piece of law that was passed by the government, which includes rules about the use of the National Health Service (NHS) by people who are not from the European Economic Area (EEA).
This law stated that when such people apply for a UK visa to stay in the UK for more than three months, they would have to pay an additional £150-£200 so they could use the NHS for free.
In April of 2015 this law came into effect and people began to be charged. In April 2017, amendments were made to these laws so that even after having paid this surcharge, migrants would have to pay for some additional services on the NHS. By law, hospitals were now also required to check if their patients were eligible for free NHS care.
Why?
The government claim that these changes will combat 'health tourism' and they estimate that the policy will help in regaining £500 million by the end of 2018. This money will then go into the 'consolidated fund' which can be thought of as the government's bank account.
Who is Affected?
Anyone who does not ordinarily reside in the UK must pay for treatment unless they are exempt. Examples of affected individuals include migrants from non-EEA countries, international students on a student visa and those whose claims for asylum have been refused, including children.
What and Who is Exempt?
Services

– A&E until the point of admission, family planning (not including termination of pregnancy), secure mental health

People

– detainees, refugees, government employees and war pensioners

Conditions

– infectious diseases such as tuberculosis (TB) (but not the complications that may be caused by the drugs used to treat tuberculosis), health problems caused by abuse such as domestic or sexual violence
What are the Issues?
Legislation is tricky to understand and these reforms have not been well publicised or properly explained. In addition reports in the media about migrants and refugees can be biased. Together, this means that refugees, asylum seekers and non-UK residents may be afraid to seek healthcare and this can have long-standing consequences:
Financial

– not accessing healthcare in time can result in worsening and more complex illness, therefore costing the NHS more money in the long run. It is likely that the financial burden of complex illnesses will be more than they set out to save

Public Health

– if migrants from countries that have high levels of infectious diseases like Middle Eastern Respiratory Syndrome or Human Immunodeficiency Virus don't go to the doctor more people could become infected as a result

Data Sharing

– as the NHS may check people's immigration status to see if they need to be charged for a service there are fears about how this information is dealt with by the Home Office and this may be another deterrent for people seeking healthcare
Most importantly, healthcare is a basic human right and being a doctor comes with the responsibility of protecting and promoting the health of all patients. The NHS' founding principle was treatment "based on clinical need, not ability to pay" (1948) and you could argue that this new legislation goes against this.
What's Next?
The government continues to review further charges for A&E and ambulance services. On 5th February 2018 the Department of Health announced they plan to double the surcharge to £300-£400. Despite this, doctors have spoken out and organised protests against this legislation and many have refused to participate in passport checks.
NHS Hot Topics: What might I be asked about migrant entitlement to NHS services?
Can you summarise who may have to pay for their healthcare under the new laws?

Do you understand the difference between migrants, asylum seekers and refugees?

Where do you stand – do you agree with charging patients for healthcare?
Words: Maria Dadabhoy