Published on 27th October 2016 by lauram
If you're an international student looking to study Medicine outside your home country, the chances are you'll be asked to do your Medicine interview over Skype. This can be a daunting prospect, but don't worry! This blog will guide you through our top tips to prepare for a Skype Medicine interview.
Skype Medicine Interview: Which universities use Skype interviews?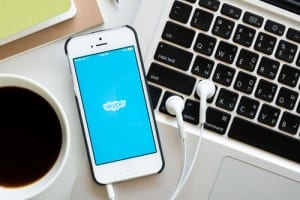 Most universities will ask for Skype or telephone interviews if you're looking to study with them from overseas, and may give local students Skype interviews in special circumstances. Some medical schools, however, ask all candidates to attend a face-to-face interview to be considered for a place – so that may mean paying for a flight to attend.
In the UK, UCL conducts interviews for all candidates in person only, but universities like Exeter or St. Andrews offer Skype or telephone interviews for international candidates. Oxford, on the other hand, does not accept Skype interviews for Medicine – but does for all other programmes.
Outside the UK, the Chinese University of Hong Kong offers interviews for its Medicine programme via Skype for international students, as does the University of Medicine and Pharmacy in Romania. If you're unsure of your interview format, it's best to contact the medical school directly.
Skype Medicine Interview: top tips
Make a good impression
Make sure you dress as smartly as you would for a face-to-face interview. Sit up straight, smile, and look into the camera (not at the video of you in the corner!).
Think about your surroundings
Don't forget to make your surroundings look good too! Many universities may ask that the Skype Medicine interview is conducted in your school or another controlled environment, so the chances of others prompting you, or other distractions, are reduced. Each university will get in touch with you directly to organise the location and time of your Skype interview. However, if you're being interviewed at home, make sure you sit in natural lighting at a desk or a table, with a clean background behind you.
Turn your phone to silent
Sound is an important aspect of the Skype Medicine Interview. Whatever you can hear, so can your interviewer – so remember to turn your phone to silent and close your Facebook messenger window! If you're doing your interview at school, make sure you're in a quiet classroom. At home, don't forget to tell your flatmates or family that you'll be doing an interview to avoid any interruptions or excessive noise.
Check which language the Skype Medicine interview will be in
If you're interviewing for a UK medical school from overseas, and English isn't your first language, don't be afraid to ask your interviewer to speak slowly or more clearly – they'll be happy to help. A good way to practice is to ask your English teacher at school for help with interview preparation, or try running through some Medicine interview questions with an English-speaking friend.
If you're a UK student looking to study overseas, make sure you check which language the interview will be in! Although many Medicine courses, such as those in Europe or in Asia, are taught in English, interviews may be solely or partially in another language, so check with the school's admissions service before your interview.
Practice
One of the best ways of practicing a Skype Medicine Interview is to do a test run! This is a good opportunity to test your video and microphone quality, to practice your Skype skills if you're not familiar with using it, and to rehearse answering questions into the camera (this can feel quite strange at first!).
Ask a friend to help you brush up your interview technique questions using our Interview Question Bank. To practice speaking into the camera, you could also try our Online Mock Interview.
In terms of content, a Skype interview will be the same as any other Medicine interview – you'll be asked questions on ethical scenarios, your motivation for studying Medicine and about any work experience you've completed. So don't focus too much on the video call aspect, but more on the quality of your answers – prepare for them as thoroughly as you would for a face-to-face interview. Good luck!
---
For more interview preparation: