Published on 7th December 2017 by lauram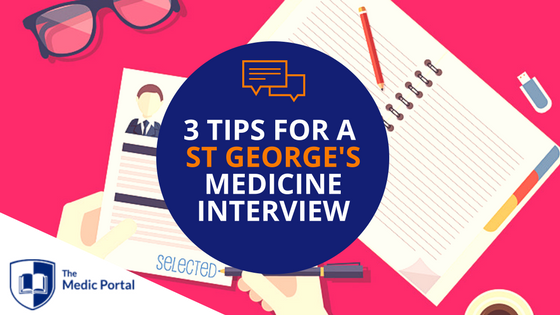 Looking for top tips for a St George's medicine interview? You've come to the right place!
Interview format: MMI
Applying to Medicine for 2018 entry? Book a space on our newly announced MMI Circuits!
Book an MMI Circuit
The interview at St George's medical school is a Multiple Mini Interview, or MMI. It usually involves 8 stations, where you will have 5 minutes per station to perform a task or discuss a topic with one interviewer. It aims to assess your suitability for Medicine at St George's, looking at your ability to discuss the skills you have that will allow you to thrive in Medicine, as well as demonstrating some of these skills. With that in mind, here are my three top tips for the St George's medicine interview:
1. Be able to discuss and demonstrate the qualities of a doctor
Two of the qualities that St George's value are teamwork and communication skills, especially as you will be taught the first year of the course with other students training to be healthcare professionals, including nursing and paramedic science students.
You should understand why these skills are important as a doctor, and be able to discuss situations in which you have successfully shown that you have excellent communication and teamworking skills.
There may also be a station that requires you to demonstrate these skills. For example, being asked to summarise an article, or describe how to tie a shoelace to someone, which would be a test of your communication skills. In addition to this, you may be required to demonstrate other skills, such as prioritisation and problem-solving skills.
2. Practice breaking bad news
A popular MMI station at St George's is one based around breaking bad news. This requires you to demonstrate excellent communication skills and an ability to empathise with someone else, as well as break bad news appropriately and sensitively.
On your work experience, did you observe a doctor breaking bad news to a patient? How did they do this, and why was it done well? Considering these questions will help you to develop your own way of breaking bad news to someone.
However, it's important not just to break the bad news but also to suggest some appropriate solutions. For example, if you have accidentally lost your neighbour's cat, you could suggest putting out posters of the cat, or going out to look for the cat.
3. Be able to answer 'common' questions
Although St George's uses an MMI interview, there will still be some stations where you will be required to answer some typical questions, such as why you chose to study Medicine and why St George's as your medical school.
You may also be asked about the challenges of being a doctor, medical 'hot topics' in the news, and recent advancements in medicine. Therefore, as well as practicing for the stations at which you have to perform a task, make sure you practice answering questions that might be considered more typical to a panel interview.
My biggest piece of advice would be to prepare for the interview as you would any panel interview, but also make sure you practice demonstrating some of the essential skills of a doctor, including communication and problem solving skills. The interview is a friendly environment for you to illustrate that you have the skills and commitment to make a great doctor.
Good luck!
Words: Maria Ahmad
Got other interview offers? Read more in the series: