Published on 12th December 2017 by lauram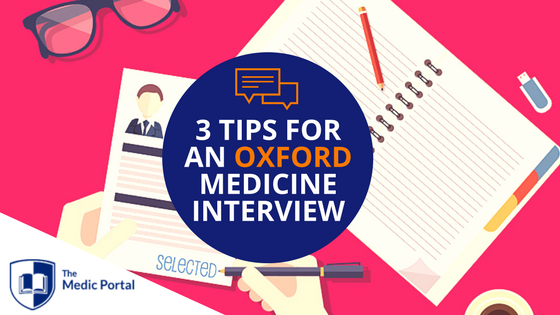 Looking for top tips for an Oxford medicine interview? You've come to the right place!
Interview format: Traditional
Applying to Medicine for 2018 entry? Book a space on our newly announced Interview Courses!
Book an Interview Course
An Oxford medicine interview can be intense and it can seem like there is an endless amount of preparation to do. The best advice I can give is to prioritise quality over quantity – they are not testing how much preparation you have done but how well you do in the actual interview, so it is better to be able to talk articulately about a few topics then to vaguely remember reading huge numbers of books and articles. This blog will have the 3 stages of interview preparation I did, from most to least important.
1. Know the basics
People always tell you to do lots of wider reading but to be honest it is far more important to have a really good grasp of all the scientific principles that you have been taught up until now – both A-Level and GCSE.
People always talk about the off-the-wall, who-knows-what's-going-on questions but actually I didn't really get many of those in my Oxford medicine interview; most of them were based on things I knew but from an unexpected angle, or combining separate topics. Reading over a summary of all the organ systems and the major organs (I was asked about the brain, heart and kidneys but the liver is probably a helpful one to know too) will stand you in good stead.
This is especially true because even if you don't really know what the question is looking for if you start talking about what you know about the organ in question they will be able to see your knowledge, and help guide you to the correct route.
2. Read around a little for your Oxford medicine interview
While wider reading is less important than knowing the standard syllabus, it can be helpful to throw in some extra knowledge. The books I found the most helpful were
The Emperor of All Maladies

– it has so much cell biology in cancer which I was asked about in two of my four interviews; it also has loads of useful examples you can bring into your answers yourself

Bad Science

– this is really useful for an Oxford interview where you are likely to get questions analysing experiments and their produced data to judge whether the conclusion reached is valid
These two books are sort of reference books – they are so common among medics that quoting them as your source probably won't get you that much credit but if you actually know the material in them well you will be able to cope much better with the questions asked and bring in relevant knowledge that makes it seem like you really researched different diseases and have a strong grasp of medical statistics.
Other good books giving specialised knowledge are The Spark of Life by Frances Ashcroft, The Epigenetics Revolution by Nessa Carey, and The Human Brain: a Guided Tour by Susan Greenfield.
It is much better to read a few books properly, and actually write notes on things that may be helpful to bring in to your answers than to read as many as you can, very quickly without really taking them in.
While the more healthcare based books, such as those by Atul Gawande are interesting reads, and useful for other university interviews, for Oxford you are unlikely to get more than a cursory healthcare question so it would be better to prioritise more scientific reading.
3. Research
If you have done a medical related EPQ be prepared to discuss it in detail, including the experimental evidence as well as just the facts. If not, some people were asked whether they had a particular area of medicine that interested them most, so it may be helpful to read up on a particular disease. Similarly, it is helpful to know a little about the current major diseases such as Alzheimers – both the proposed mechanisms of the disease and the possible treatments being explored. To show an interest in medicine, you can choose two articles from journals such as the BMJ that you can talk about – just make sure you actually understand them!
In the interview relax and remember that the tutors are experienced – they will be able to see your potential even if you make a stupid mistake out of nerves. I wish all of you the very best of luck!
Words: Irene Mathias
Got other interview offers? Read more in the series: