Published on 15th August 2018 by lauram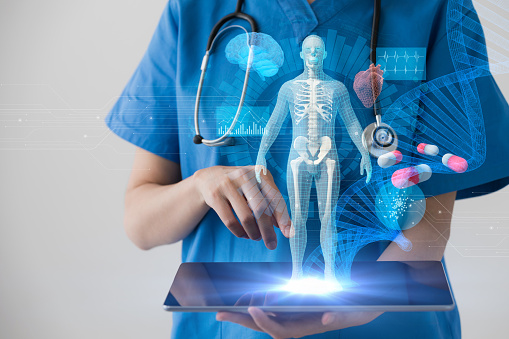 Hello and welcome to our Weekly News Summary, bringing you the most up-to-date news in healthcare and making it relevant to you as a medical school applicant!
This week, we will discuss the following topics: the latest in the Dr Hadiza Bawa-Garba saga, the role of artificial intelligence in medicine, and a novel trial for treating hospital inpatients in their own home.
Want weekly news delivered straight to your inbox? Sign up to our newsletters here!
Dr Hadiza Bawa-Garba wins appeal to practice medicine again
Dr Hadiza Bawa-Garba was struck off the medical register in January 2018 after being convicted of manslaughter over the death of a young boy called Jack Adcock. Although she was initially suspended for one year only, the General Medical Council (GMC) appealed against this decision earlier this year, which resulted in her permanent erasure.
However, there has since been much controversy surrounding this, with thousands of doctors signing a letter of support of Dr Bawa-Garba, and huge media coverage. After an appeal, it has been deemed that her mistake was not an unreasonable one considering the circumstances of her shift that night, and that her actions were "neither deliberate nor reckless", not presenting an ongoing risk to patients. She has therefore been allowed to continue to practice medicine again.
Sadly, Mrs Adcock is extremely unhappy with this decision and believes that it will cause loss of "faith and trust" in the NHS.
What can we learn from this?
Mistakes are almost inevitable in the practice of medicine. When these mistakes result in harm to patients, this is a matter of huge concern and investigation. However, it is accepted that not everything will run smoothly, and therefore doctors are required to reflect on their practice and strive for improvement.
These reflections are only intended for self-development. One of the big controversies in this case was the apparent use of Dr Hadiza Bawa Garba's reflections against her at the tribunal, although GMC have denied this. Nevertheless, it is important for you to be aware of the role of reflections, as this is something you will need to learn to do from the very beginning of medical school.
Question to think about: what are the factors involved in a doctor making a mistake? Read more about effective reflections here!
---
Why not try one of our quizzes?
---
Artificial Intelligence matches top experts in diagnosis
An eye hospital in London has conducted a study in partnership with Google demonstrating a remarkable rate of diagnosis of eye conditions, matching top specialists in ophthalmology. With an error rate of only 5.5%, and not missing a single urgent case, this technology has the potential to revolutionise care provision, as the number of patients who have to wait for assessments is a big issue, with some patients going blind whilst still awaiting assessment by a doctor.
What can we learn from this?
Technology is having an increasing role in healthcare, both in making services more efficient and more effective. It is important to be aware of this impact, as it will be a big part of your training and working life.
Similar technology is being used in radiology and scan interpretation, as well as triage systems, and many doctors' roles are going to be changing over the coming years.
Some will fear this change and may feel that their jobs are at risk; however, what is more likely is that the workload in medicine will become more manageable and doctors will deal with only the more complicated or urgent cases, which should make for a more satisfactory work life.
Question to think about: what do you think has been the most important technological advance in recent years? There is no right or wrong answer to this, but you could be asked in an interview to demonstrate that you are aware and interested of what goes on around you. Read more about Artificial Intelligence in cancer research here!
Treating inpatients in their own homes
Norfolk and Norwich Hospital is preparing for upcoming bed pressures in the winter period by making plans to treat patients in their own homes, instead of admitting them into hospital.
These patients will still be classed as "inpatients", and will receive regular visits from nurses during a 12-week trial period. A spokesman for the hospital said that this was in response to "very high levels of demand last winter".
The hospital has said that those included in the trial will be those with complex wound dressings, those needing complicated insulin administration, and those on long-term antibiotics.
What can you learn from this?
Doctors are notorious for sticking to traditions and age-old practices. However, when considering how to improve care and service provision, it is important to be able to think "outside the box", as ideas that might seem completely crazy at first may actually be better in the long-term.
Our tradition model of inpatients and outpatients may seem like a sensible way to organise the healthcare system, but in reality there are many blurred boundaries which lead to inefficiencies and wasted resources. Moving some of the "inpatient" workload out of hospital may go a long way to helping to alleviate bed and staff shortages.
Question to think about: what are the functions of primary, secondary and tertiary care? Read more about the structure of the NHS here!
Words: Mariam Al-Attar
Make sure you're up to date with the latest in healthcare – check out the latest news here: