Doctor for a Day: A Medicine-Based Learning Experience for Children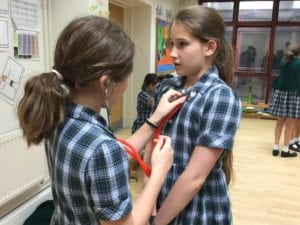 Do you teach children aged 8 – 11? Are your students fascinated by the human body and how it works?
Delivered by experts, Doctor for a Day is The Medic Portal's exciting new healthcare experience for children. Encouraging their natural curiosity and inquisitive thinking, the day will introduce the medical profession in an engaging and playful way through a range of interactive group activities – a truly unique and fun learning experience.
Inspiring potential young medics to develop an interest in science from an early age, children will leave the day with an understanding of basic first aid, the immune system, healthy living and the role of a doctor. This one-day event is designed to provide exciting insight into the medical profession, encouraging scientific curiosity, inquisitiveness and critical thinking.
Officially partnered with the Royal Society of Medicine, The Medic Portal engages with thousands of aspiring medics every year and our courses are used by many schools and thousands of students around the world.
---
Doctor for a Day: Timetable
The day will consist of different sessions, led by TMP experts, exploring first aid, fighting infection and healthy living.
The day closes with a simulated mini doctor clinic where children will take turns playing the role of patient and doctor to provide a fun and exciting introduction to the medical profession.
You can view a provisional timetable of the day below:
| Session | Overview | Activity |
| --- | --- | --- |
| First Aid | This session is designed to encourage scientific curiosity by exploring first aid. What happens when we get a cut? Why do we bruise? How do we treat a fractured arm? | Children will learn all about managing and treating cuts, nosebleeds and fractures through activities such as fitting bandages and slings. |
| Infection | This session explores how our bodies tackle infections, covering the basics of the immune system, antibiotics and germs. | Children will explore how the immune system works through drawing, worksheets and interactive group tasks. |
| Healthy Living | A doctor's job involves educating patients about healthy living. This session explores the importance of this including personal hygiene, eating well, exercise and sleep. | Children will create their own posters on healthy living and learn the importance of hygienic hand washing using ultraviolet equipment. |
| Mini Doctor Clinic | In the mini doctor clinic, children will take turns to play the role of patient and doctor. | Children will be given various complaints covered during the day - from nosebleeds to a fractured arm - and will learn all about the medical profession using role play. |
---
Doctor for a Day: Teacher Testimonials
"Our Year 6 girls really enjoyed their Doctor for a Day session. Our two doctors were incredibly approachable, knowledgeable and fun! The girls learnt a huge amount in such a short space of time and really enjoyed the practical sessions having a go at using steri-strips, slings and stethoscopes!"
Teacher, Wimbledon High School
"The 'Doctor for a Day' workshop proved a great success with our QCPS girls. Neelima and Marie were great presenters who delivered an informative yet fun workshop. They were extremely efficient at delivering their knowledge into the medical profession and gave great advice into how the girls can become doctors in the future. They were able to keep the right balance of learning and fun which really added to the girls' enjoyment of the day.
The mix of activities also kept the girls engaged and the 'Doctor Clinic' in the afternoon was an exciting and fun way to end the day for the girls. The girls also loved the freebies at the end which was a nice touch as a parting gift. I certainly hope it has inspired the girls to strive to become medical professionals in the future. We will definitely be inviting Marie and Neelima back next year to talk to our new Form V girls."
Headmistress, Queen's College Preparatory School
Student Testimonials
"I loved today's workshop. My favourite part was putting the UV light on our hands and seeing how dirty they really were! I'm definitely going to wash my hands thoroughly all the time now!"
Student, Queen's College Preparatory School
"The clinic was the best bit! I had to put Leyla's arm in a bandage. I loved listening to other people's heartbeat too, although it was quite difficult at first! I'm definitely thinking about becoming a doctor in the future now."
Student, Queen's College Preparatory School
"I have never considered becoming a doctor up until now. Marie and Neelima said it was the best thing helping people – I love helping people and I like science too, so I think I will try to become a doctor!"
Student, Queen's College Preparatory School
---
Doctor for a Day: Booking
Are you a teacher interested in booking this event at your school?
If you're interested in booking our Doctor for a Day event, please get in touch with a member of our team using the button below.
Get in touch with us to book this event
---