Published on 30th November 2017 by Isabella Ford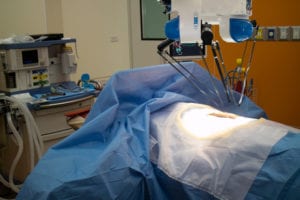 Applying to Medicine for 2018 entry? Book a space on our newly announced Interview Courses!
Book an Interview Course
Welcome to this week's edition of the news summary blog. This blog keeps you in the loop with all the latest stories in health news. This post will cover the key news from the 22nd to the 28th November. A robotic revolution could mean that in the future robots could be performing your surgery, children are currently watching up to 12 adverts for junk food per hour on TV and experts are pushing for children to be given the flu vaccine to prevent the spread of infection to their elderly immunocompromised relatives.
Within the health sector a robotic revolution is underway, experts forecast that in the future robots could be used to carry out and assist surgeries. The increase in the number of robots used is predicted to occur in the next five to ten years. It is hoped that the use of robots could combat the staff shortages within the NHS as well as help to meet the demand of the ageing and growing population. In general robotic surgery improves efficiency, efficacy and precision during procedures in addition to minimising the risk of post-operative complications. However, there is still a risk of adverse events as 144 deaths and 1,000 injuries were recorded in the US between 2005 and 2015.
Health experts are calling for ministers to ban adverts for foods high in fat, sugar and salt before 9pm watershed. The plea comes after researchers at Liverpool University found that children see up to 12 adverts per hour on TV for junk food products. Currently, junk food adverts are banned from being shown in and around children's programmes, however, many children are still exposed to the marketing while they are watching TV shows aimed at adults. The government have indicated that they will not change any of the current legislation as the restrictions on junk food advertising is one of the strictest in the world.
Experts believe that children should be given the flu vaccine prior to the Christmas holiday to prevent them from spreading the virus to their older relatives. Doctors have warned that the virus can spread easily at schools, this puts elderly relatives who are vulnerable at risk over the Christmas holidays. Those who are at risk of developing serious complications from catching flu are those with heart or lung disease, pregnant women and the immunocompromised. The children's flu vaccine can be offered as a yearly nasal spray but is routinely only given to children aged two or three.
Words: Joelle Booth