Published on 27th April 2016 by Roya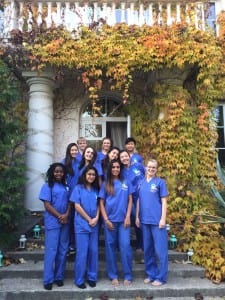 Aspiring doctor Chelsea joined Gap Medics for hospital work experience in Warsaw, Poland in October 2015. The experiences she had in the hospital opened her eyes to the incredible amount of passion and dedication required to be a healthcare professional, and confirmed that a career in medicine was the right choice for her. Since returning from her placement, she has been offered a place to study medicine at UEA.
Why did you decide to do a Gap Medics placement?
I first heard of Gap Medics through my school. It was at the stage when I had decided I wanted to study medicine; however I had no real experience in a hospital setting.
I chose to take part in a placement abroad with Gap Medics because I wanted hospital based work experience and because of my love to travel. Gap medics provided me with a chance to do what I love, whilst exploring a different healthcare system to the one in the UK. I had read about the placement, and knew this was something I definitely wanted to do.
Could you describe a typical day on placement?
A typical day at the hospital began at about 8 am, when we would arrive and get changed into our scrubs. We would then make our way to the ENT department to begin our day of shadowing. Firstly we would go on rounds on the ward, checking on the progress of patients who had spent the night.
This was followed by two or three patient examinations – mainly involving the use of endoscopes, and sometimes small procedures such as tonsil coagulation. After this, we would head down to the operating theatre where we watched several surgeries, before heading home at 1:30pm.
The rest of the day at the Gap Medics house would be spent preparing for the afternoon activities and dinner. We would either go into the city to explore and try new activities, have a global health tutorial, give back by doing some work in the community, or just spend the evening at home with the Gap Medics family.
What will you remember most from your time in Warsaw?
One of the things I will remember the most is the passion shown by the Gap Medics doctors towards their career. This was seen in their willingness to not only show us their daily routine in the hospital, but to ensure we understood their role as a doctor.
I felt like I not only gained a realistic insight into the characteristics of a doctor, but I also came away with subject knowledge surrounding the ear nose and throat and the diseases affecting them. The Gap Medics doctors were always happy to answer any of our questions, and went to great lengths to further consolidate our understanding.
In their free time, they would go into further detail of a patient we had seen, using illustrations and books to help us understand their symptoms. Even during surgery, the doctors would call us over to view the procedure at closer angles at each stage of the procedure, to further give us a greater understanding of what they were doing
Another thing I will remember is the time I spent exploring the beautiful city of Warsaw. Seeing its sights and attractions, learning the language, and tasting its delicious cuisine (especially the dumplings)! Last but not least, I will always remember my Gap medics family! We made new friendships and great memories together.
What's the most important thing you learned?
The most important thing I learnt is that every patient is different and, as a doctor, you need to be able to tailor the care you provide to each individual. I had heard previously about 'Patient centred care', however during my placement, I learnt the importance of it, by observing this style of care being provided by the doctors I shadowed.
How has your experience helped you in pursuit of a medical career?
My experience confirmed that my choice to study medicine was the right choice for me. I saw the joys of being at the forefront of delivering care for someone in need, and on the other hand, the stress that comes with tiring hours and having to overcome difficult situations on the ward – factors that I will have to deal with in the future as a doctor. The realistic outlook I gained helped me to convince interview panels of my suitability to study medicine when it came to the interview stage of my application.
What would you tell other aspiring medics thinking about doing a shadowing placement overseas?
I would advise anyone thinking of taking a Gap Medics placement oversees, to take the bold step and go for it! It's the experience of a lifetime, and will remain with you forever. It's an opportunity to gain insightful knowledge into your future career, as well as a chance to be independent and dive into a new culture – all with a group of likeminded individuals who all have the same dreams as you.
Gap Medics provides year-round hospital work experience for people aged 16 and over. These shadowing programmes offer a unique insight into the work of doctors, nurses, midwives and dentists – helping students to focus their career aspirations before embarking upon medical training.
Uploaded by Roya on 27 April 2016