Published on 4th June 2018 by lauram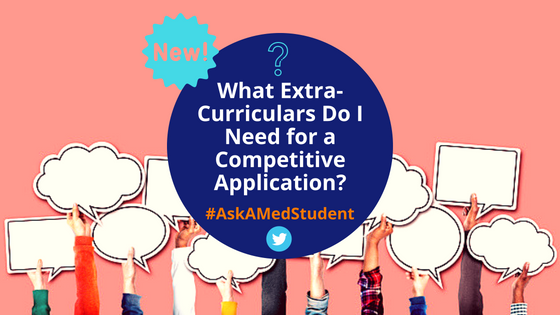 Welcome to our brand new blog series, #AskAMedStudent! Every fortnight we'll be asking your questions to a current medical student, who will answer them in a blog. So, what would you love to know about applying to medicine? Ask us on Twitter!
Wondering what med schools are looking for? Read medical school guidelines for work experience and extracurriculars here!
Read med school guidelines
Question: What Extracurriculars Do You Need for a Competitive Application?⠀
The main purpose of pursuing extracurricular activities for your medical school application is to show that you have all the other skills and qualities required of a potential doctor (besides the academic ability).
You may consider yourself to be a caring and compassionate individual, but the thing with the medical school application is that you need to be able to prove it, and the way you're going to be doing that is through the different extracurriculars you choose to take on. Here are a list of some of the main attributes you may want to think about:
Teamwork

Communication

Leadership

Empathy

Compassionate nature
The Medical Schools Council has compiled a more comprehensive list of the qualities that medical schools look for in applicants, which would definitely be worth a look through.
Essentially, the extracurricular activities you do will be composed of some voluntary work, some work shadowing and also your own personal interests/hobbies. You don't need to have a different activity to prove each and every quality, but instead you'll find that one thing you do will indeed cover many components for you.
---
Looking for a fun break? Try one of our quizzes:
---
For example, I volunteered in a hospice where I worked alongside the nursing staff – this would cover teamwork, communication, caring, empathy and perhaps many other things that I never even thought about.
Read 3 easy ways to demonstrate teamwork skills>>
One thing to remember is that the extracurricular activities you choose to do don't necessarily need to be medically related in order to prove that you have the qualities that of a good doctor. You may have a part time job in a shop or a café, and that would teach you so much about communication!
Read 3 easy ways to demonstrate people skills>>
Programmes like NCS and DofE tend to give you amazing experiences of working in a team. There will be many things you will have already done that will perfectly supplement your application. You just need think outside of the box!
Read how to apply your Duke of Edinburgh to Medicine>>
When you're writing your personal statement, you'll probably have a short section somewhere talking about your hobbies and other things that you like to do in your spare time.
There's one misconception I need to mention here, and that is that you need to write about either a musical instrument that you play, or a team sport! If music or sports are something you're into, then that's great, you can go ahead and write about it. But if you have something else you're interested in, then that's equally as great!
The medical schools don't care about what your hobbies are, they just want to see that you do have something outside of work that allows you to relax and maintain a good work-life balance!
In summary, there isn't a specific number of things you need to do, or specific activities you should do… all you need to be able to do is make sure that through the extracurriculars you take on you're able to provide an example of you being a good team worker, a good communicator and so on…It's the quality of your reflections that matter, not the quantity of your activities!
Words: Masumah Jannah
Want more tips on demonstrating key skills for medicine? Try these: