Published on 20th March 2018 by lauram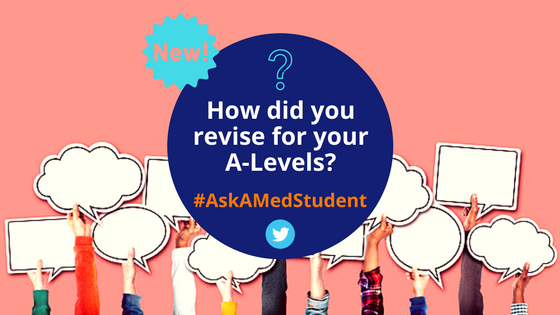 Welcome to our brand new blog series, #AskAMedStudent! Every fortnight we'll be asking your questions to a current medical student, who will answer them in a blog. So, what would you love to know about applying to medicine?
Ask us a question
Question: How did you revise/tips for A-levels to gain the top grades?
@KumikoGoddard
Hi there!
When it comes to revising there isn't a fixed way to do it and everyone has their own way that works for them – so whilst I can't tell you how to revise, I can definitely tell you things that I did whilst I was revising and what worked for me.
One of the main things when it comes to A-Levels compared to GCSEs is that you must be able to revise consistently from day one right until the exam day. Try to understand the topics rather than just memorising them because there will be a lot of applied questions.
Applied questions are difficult. The one and only golden way to get better at them is by meticulously going through past papers and practising tons of questions. I know there aren't as many available due to the recent change in specification, but don't let that hinder you from getting all the practise you need.
Make sure you go through every single paper from the previous specification. By doing this you'll realise that although there have been small changes to the content, the types of questions asked will have largely stayed the same.
I created a lot of topic summaries to help with remembering everything and they were particularly useful for Biology where there's a lot information. Spend more time focusing on the areas which you find difficult – that way you'll be able to master them and will come across shortcuts in ways you can answer these questions.
People tend to struggle with the data interpretation questions in Biology, but with enough practise you'll be able to pick up certain things you're always expected to do – like explain the general trend of the data and then you can mention specific data points.
If you're applying for Medicine you will presumably be doing A-Level Chemistry, for which I would say the key is mastering all the equations and mechanisms. I created a summary with all the equations, mechanisms, reagents and conditions needed for the new specification, which you might want to use to help with your revision!
You may even want to create your own, as the process of going through the information will help you greatly with remembering it.
Read How to Get 3 As to Meet Your Med School Offer>>
With A-Levels the best secret can be summarised in three words: practise, practise, practise!
Good luck!
Masumah
Did you know we offer science tutoring to help boost your A-Level grades? Find out more about Science Tutoring>>
Want more A-Level tips? Try these: