Published on 5th December 2019 by LeighanneM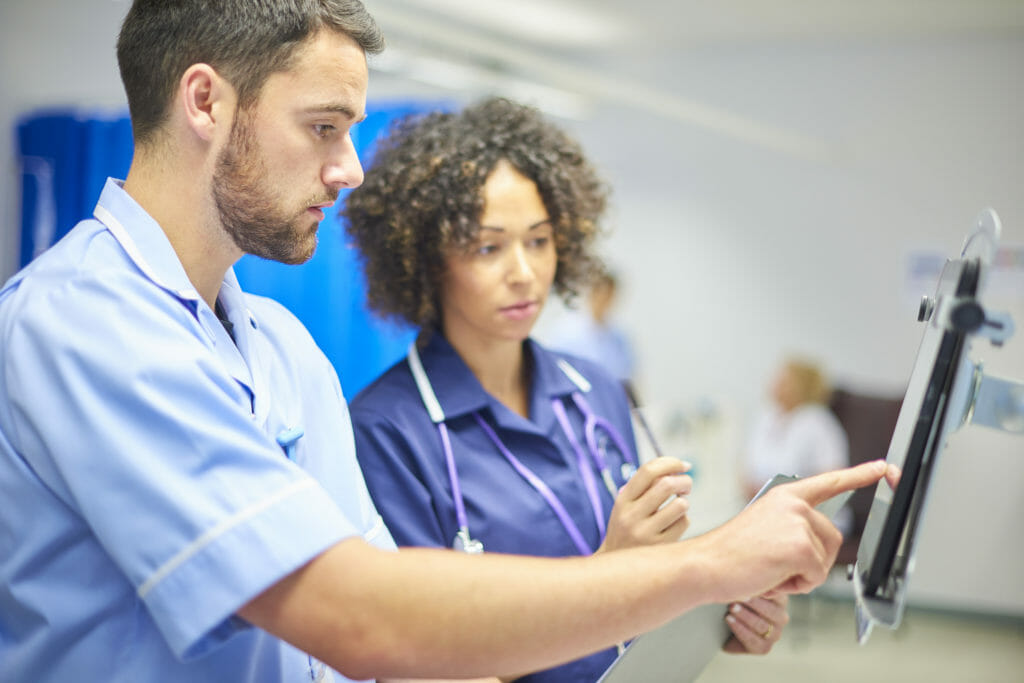 The NHS is under increasing pressure year upon year, but winter is the time when the pinch is felt most. With the cold comes flu season, and with more people being admitted to hospital, there can be a lack of beds. Staff shortages are felt even more keenly during this time of increased pressure.
Here is a quick rundown of 5 pressures the NHS faces each winter, and especially this winter.
1. More people are admitted to hospital
In the winter period, there is a huge rise in the number of people being admitted to hospital. Despite a decrease in people attending A&E, more are being admitted compared to the rest of the year, and the rise in people needing a hospital bed is stretching hospitals to an even greater extent. Compounding this is the social care crisis; a lack of provision for many patients who are waiting to leave hospital means that often elderly patients are stuck in hospital for longer despite being medically ready to be discharged. More patients mean greater pressure for the staff working in the winter period, who are already under pressure to make space for other patients who need to be admitted.
2. Lack of beds
Hospitals are already operating at a high capacity, meaning that there are few free beds for new patients. In the winter, due to this rise in the number of people admitted to hospital, all the beds can fill up. Sometimes there are no free beds in an entire hospital, leading to the scenes you may have seen on the news of people in A&E lying on beds in corridors. Despite the need for beds increasing across the whole year, not just winter, the number of beds since 2010 has actually been cut across NHS England – by 17,230 beds. With more patients being admitted in winter, this lack of beds leaves hospitals in deadlock, with no choice but to use 'escalation beds' which are used alongside permanent beds to cope with an increase in demand. Hospitals have had no choice to start using these even in non-winter months, leaving less of a buffer for the further rise in patient admissions in the winter.
3. The cold
The cold of the winter brings with it additional pressures for the NHS. When the temperature drops to a moderate 5-8⁰, illness and death rates increase. Each 1⁰ drop in temperature below 5⁰ correlates to a 4% increased death rate and 1% increase in admission rate in England. Older people and those with chronic respiratory conditions are most affected by the colder weather. Flu epidemics which vary from year to year can also have a huge impact on all services. People often present to their GP first with flu or flu-like symptoms, but the flu puts an increased pressure on the ambulance service and A&E too.
4. Staff shortages
There are staff shortages all year round currently in the NHS, which are only set to get worse. At the start of this year, there were about 43,000 nurse vacancies, equating to 12% of full time posts empty. It is estimated that by 2030, there will be 250,000 unfilled posts across the NHS. These staff shortages result in an increased workload and pressure on the remaining staff who are stretched further and further. In winter, with the increase in patients this is putting the already stretched staff under even more pressure, which is not good for the staff or the patients. This year, the NHS is heading into winter with 100,000 staff posts vacant.
5. Lack of funding
All of these other pressures are not helped by the lack of funding the NHS receives. With an ageing population and increasingly complex diseases to treat and manage, the lack of beds and staff shortages are increasingly tough with a lack of money to help to increase some resources to relieve a little bit of the pressure. For most years this decade, the NHS has relied on extra funding to get through the winter, often released later in the year before winter hits. However, the government has said that there will be no winter funding this year, for the first time in 8 years.
The NHS is always under pressure, but the winter brings extra strain. With increasing staff and bed shortages, the usual pressures of the winter season will be felt even more keenly this year. The lack of extra winter funding will be compounding these pressures even further, and the extent of the impact on the NHS and patients this winter remains to be seen.
Want weekly news delivered straight to your inbox? Sign up to our newsletters here!