Published on 2nd May 2019 by lauram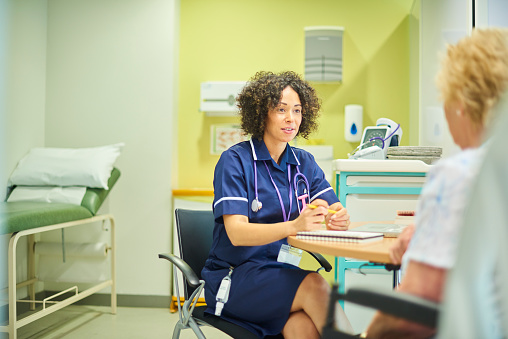 Welcome to this week's medical news round up! In our latest edition, we bring you the healthcare topics that have been under the microscope over the past week, just in time for your med school applications.
Joining us this week: NHS funding, a new type of dementia and new cervical screening.
Want weekly news delivered straight to your inbox? Sign up to our newsletters here!
NHS funding
Health experts propose new tax to fund NHS and social care.
The proposal follows the news that hospitals continue to struggle with pressure and lack of resources, despite NHS funding being at a record high.
A panel of health experts, set up by the Liberal Democrats, state that NHS England is in need of an additional £4bn in the next year.
Currently, National Insurance funds the NHS. Those over 60 pay significantly less National Insurance and those over 65 do not pay at all.
Considering the population is continually ageing, our perspective on the elderly has changed considerably, with 85-95 now considered 'old age'.
In response to population changes, the panel recommends replacing National Insurance with a new tax earmarked for the NHS.
What can we learn from this?
NHS funding and the ageing population are fiercely debated and hot topics for the health service currently.
There is no debate on whether the NHS and social care needs more funding. The questions lie with how to raise billions of pounds for the services.
Basic options available for the government are higher taxes or to borrow money. Higher levels of tax may be agreeable for the public if there is a common understanding of the rationale behind it.
Question to think about: how do you think NHS funding can be improved?
Read: NHS Hot Topics – NHS Funding
New type of dementia
Researchers identify a new type of dementia.
Dementia is an umbrella term for many conditions, the most common of which being Alzheimer's disease.
New research shows that up to a third of those diagnosed with Alzheimer's disease may actually be living with limbic-predominant age-related TDP-43 encephalopathy (Late).
Late is linked to an accumulation of the TDP-43 protein in the brain and appears to affect 20% of those over 80.
The identification of this new type of dementia is groundbreaking for the field and could partly explain why current treatments are not effective.
There is hope that this new discovery will lead to more precise diagnosis and effective treatments in the future.
What can we learn from this?
With Late affecting 20% of those over 80, this is likely to be a huge issue for public health, the NHS and pharmaceutical companies. Many trials of dementia drugs aim to reduce proteins in the brain, but so far have not been successful.
Alzheimer's disease is linked to the buildup of two other proteins, amyloid and tau. The fact that Late has probably been present for many years but mistaken for Alzheimer's adds another important dimension to the hunt for effective dementia treatments.
Question to think about: describe your understanding of the issues dementia presents to the health service.
Read: NHS Hot Topics – Ageing Population
New cervical screening
A new urine test could provide screening for cervical cancer.
The news hit headlines this week after trials found urine testing was as good at detecting HPV as smear tests. HPV is a virus and a big risk factor for cervical cancer.
The trials are hugely topical, as recent news has highlighted that attendance rates for smear tests are now down to 71%, meaning millions of women in England have not attended a screening for at least three and half years.
There is hope that the potential of non-invasive cervical screening will encourage women to attend and increase participation rates.
Larger trials are required before recommendation to the NHS.
What can we learn from this?
Medical news reports that cervical screening prevents 75% of all cervical cancers. With this in mind, it is extremely worrying that millions of women are currently overdue their test.
Many factors can influence attendance to screening appointments. The most prevalent factor appears to be embarrassment or fear. However, it is also important to consider the challenge of cervical screening for women living with the impact of FGM or sexual abuse.
Therefore, the potential of a non-invasive screening method could be the answer for overcoming these barriers and increasing uptake rates for screening.
Question to think about: why do you feel less women in the UK are attending cervical screening?
Read: Empathy Questions
Are you keeping up to date with medical news? Read the latest here: