Mastering The UKCAT Book
Mastering the UKCAT is The Medic Portal's official UKCAT book. It is published in conjunction with a leading educational publisher.
Drawing on The Medic Portal's proven track record, our UKCAT book takes you, step by step, through the proven techniques that have helped thousands of students achieve top UKCAT scores.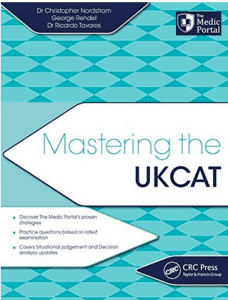 In Mastering the UKCAT, expert authors deconstruct all question types. We then highlight core strategies, common pitfalls, and top tips — as well as the tactics examiners use to trip you up.
The book covers all parts of the UKCAT and is completely up to date with all the latest UKCAT formats.
Unlike other UKCAT books, we do  not solely provide practice questions. Instead, we identify repeatable techniques to ensure success. These are actively demonstrated through worked examples.
At the end of every section, there are ample practice questions for you to try. This gives you the chance to implement what you have just learnt. We believe that only by having a repeatable strategy can you reduce variance in your scores. You can purchase Mastering The UKCAT from Amazon.
Buy Mastering the UKCAT from Amazon
Attend a UKCAT Course and get our UKCAT Book FREE!
Another great way to enjoy the benefits of our score-boosting book is by attending The Medic Portal's UKCAT Courses. Officially partnered with the Royal Society of Medicine, our courses are created and delivered by doctors and medics who've successfully navigated the UKCAT themselves.
The one-day course comprehensively covers all sections, and students are provided with an electronic key pad to complete practice questions with. You'll also receive the Mastering The UKCAT book completely free! What's more, the day is summarised in a detailed workbook comprising the days lecture slides, revision notes and practice questions to be used for your own personal UKCAT revision after the course.
Book your UKCAT Course and receive the free UKCAT book