RCSI University of Medicine and Health Sciences
RCSI is a specialist health sciences university based in Dublin, the capital city of the Republic of Ireland, offering undergraduate and graduate entry degree programmes in Medicine, Pharmacy, Physiotherapy and Advanced Therapeutic Technologies. 
RCSI University of Medicine and Health Sciences is ranked among the top 250 of universities worldwide in the 2022 Times Higher Education (THE) World University Rankings. We have maintained our worldwide position in the #201-250 category  for a sixth consecutive year and rank second out of nine institutions in the Republic of Ireland. 
Our city-centre campus is located right in the heart of Dublin and is built to meet the needs of current and future students. RCSI's flagship 26 York Street building is home to the main RCSI library, and to the most advanced clinical healthcare simulation centre in Europe. This is an award-winning teaching, research and recreational facility spanning 10 floors. 
With more than 60 countries represented within the undergraduate student community and over 70% of undergraduate medicine places available to Non-EU students, RCSI is a truly international university. The RCSI alumni network consists of over 28,000 graduates located in 98 countries around the world. 
To find out more about RCSI, check out this video and download our prospectus today. 
Course Information 
Duration: 5 years/6 years (inclusive of Foundation Year) 
Award: MB, BCh, BAO (Hons) [equivalent to MBBS] 
Intake: Annually (September) 
During your early years studying Medicine at RCSI, you will obtain a solid grounding in the biomedical sciences via systems-based modules and you will learn about the body structure and functions in its normal state. You will study anatomy with expert surgeons and healthcare professionals through regional cadaveric dissection. 
The intermediate years of the programme will focus on learning about abnormal bodily functions as well as a wide array of clinical skills workshops, small group tutorials and case-based teaching sessions. The final years of the programme are spent on clinical placement in a number of important clinical specialties, ranging from paediatrics and family medicine, to psychiatry and surgery and internal medicine. 
Our Medicine curriculum has an intensive focus on acquiring excellent clinical and communication skills and understanding the central tenets of personal and professional identity formation. Our students are taught by award-wining RCSI academics, clinicians and researchers. 
You will begin interacting with actual patients in the first few weeks and will take part in immersive clinical placements in Ireland's leading hospitals. You will also develop your research skills and take part in exciting and innovative research projects. We also follow a positive education approach. This combines the science of positive psychology with teaching best practices and encourages and supports students and allows them to flourish. This approach to learning actively promotes positive growth, resilience and well-being. 
You will find a full programme overview here.
Entry Requirements: EU applicants apply to RCSI via www.cao.ie from 5 November each year and are required to sit the HPAT admissions exam. Non EU applicants apply directly to RCSI via www.rcsi.com/dublin (applications open on 1 November each year). Non EU applicants residing in North America apply via our educational agent partner, Atlantic Bridge.
Before starting your application, you should confirm whether you are an EU or Non EU applicant by consulting the information available here. Please note that post-Brexit, UK citizens will continue to be classed as EU applicants due to the Common Travel Area in place between Ireland and the UK.
Once you have determined your applicant status, you can consult the relevant entry requirements via the links below:
Website URL:

Email:

Phone:
Case Study
Name:

Noora Bani Hammad – Bahrain

Year of Study:

3rd Year Medicine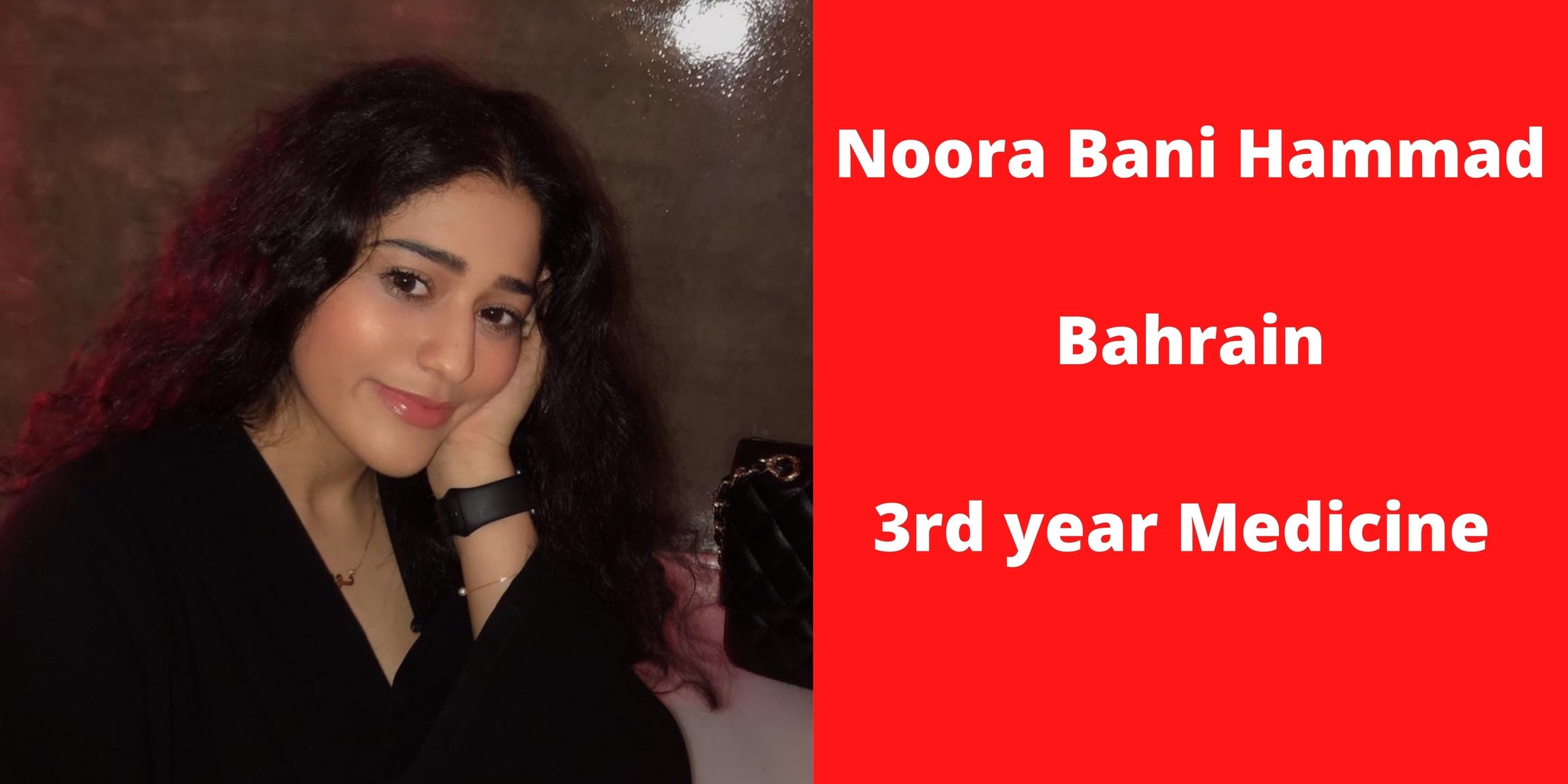 Tell us a little about your experience and RCSI and why you decided to study there?
RCSI is very unique in comparison to other universities as it is primarily focused on healthcare. You are surrounded by like-minded students who are either doing medicine, pharmacy or physiotherapy. Personally, I have found that this environment is rather nourishing and motivating as everyone is really focused on their education. RCSI is extremely multicultural which in turn allows us to explore and learn about a plethora of cultures. As a matter of fact, we have broken the Guinness world record for most nationalities in a healthcare setting.
What are the most difficult aspects of your programme?
The hardest thing that I have faced when I first started med school would be finding the most efficient study technique that suits me best. However, this is extremely manageable; as the time progressed I came to realize that I like to study the material within the same week that it is taught instead of cramming it. Another hardship that some of you may face would be overcoming Imposter Syndrome and making sure that you are taking care of your mental and physical health. Do not let studying consume you; there is much more to med school than just studying.
What is student life like at RCSI from a social perspective?
The social aspect of RCSI is enthralling, there are numerous societies and I believe that every student would be able to find at least one society that would interest them. These societies include: the running club, psychsoc, MESA (Middle Eastern Students Association and the Photography society. Moreover, these societies arrange events that are outside of college which are very entertaining; for instance the CAS (Caribbean and African society) hosts a white party event during Freshers Week which allows the incoming students to expand their social circle.
What tips would you give to someone applying to RCSI?
I would advise students who are applying to RCSI to approach their new life with passion, patience and perseverance. Transitioning from high school into university is not an easy task, however the small class sizes and the multicultural environment that RCSI offers, truly makes one feel at home. Also I would advise you to look into RCSI, its history along with its alumni as I truly believe that RCSI will allow you to establish connections especially with its early clinical exposure that you will not find elsewhere.