Published on 4th October 2016 by lauram
This post was published October 2016. All information correct at the time of publication.
You've most likely heard the news that Health Secretary Jeremy Hunt has announced today that the number of medical school places will increase by 25% from 2018. In a nutshell: the expansion in training places will rise from 6,000 to 7,500 a year to make the NHS 'self-sufficient' in doctors by 2025.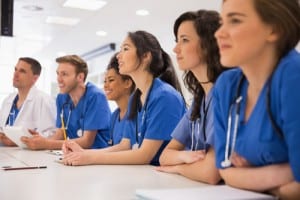 Each year, 6,000 medical students graduate from university, and during the third year of junior doctor training choose a specialism, such as general practice. This is where shortages emerge. The largest vacancies are found in areas of psychiatry (19%), GPs (17%) and paediatrics (7%).
The new expansion plans are an effort to tackle these shortages by increasing the number of training places. What does this mean for aspiring medics?
How will this impact UK medical school places and medical students?
If you're applying to study medicine at university, you have probably already done your research and know that currently only around half of applicants are successful in gaining a place. Competition is fierce!
Hunt has said that the expansion plans would mean many more students with the skills to become doctors would be able to do so, which is great news for aspiring medics. The new medical school places will be available from the 2017/18 academic year. Courses are set to start in September 2018.
For UK students, this result is a good one. With more places and decreased competition, the new plans will encourage more applications from potentially great doctors.
The new plans may lead to a fairer system. The margins between success and failure in the application process are very thin – with the expansion, the need to distinguish between near identical candidates should diminish.
The expansion plans will have a positive impact for applicants from poorer economic backgrounds, something we have been working with The Royal Society of Medicine to promote. UK medical schools will need to demonstrate that they are making deliberate efforts to appeal to and encourage students of deprived backgrounds before they can lift the cap on training places, making medicine more accessible.
However, the new medical school places will also mean that UK students will be required to work in the NHS for four years after graduating before they can move overseas. If you do not, you may face penalties which could include repaying the cost of your training. This currently stands at around £220,000 – not a nice prospect!
Many medical organisations have reacted positively to the decision. The NHS is severely understaffed, particularly in specialities of paediatrics, anaesthesia and psychiatry, and the new plans may help shortages.
Professor Jane Dacre, Royal College of Physicians president, agrees. The increase in medical school places will 'help relieve many of the pressures faced by the NHS in the long term, and support a more sustainable workforce'.
How will this impact international medical students?
If you're an international student looking to study in the UK, the impact is unfortunately more costly. The cost of the new medical school places is expected to be £100m in total by 2021 and these costs are to be felt by international applicants.
Hunt plans to offset these expenses by making international students pay for their own clinical placements while domestic students do not. This could, theoretically, create a risk that prestigious universities and the NHS may miss out on some top talent from outside the UK.
Despite this, the Department of Health points out that the current fee of £9,000 a year is 'far lower than the fees for other prestigious international medical schools'.
However, although the costs of studying in the UK are raised for international students, Hunt's plans may not affect the need to recruit young doctors from overseas.
Foreign doctors in the NHS currently make up around a quarter of the medical workforce. The health service, as BMA Chairman Dr Mark Porter points out, will not benefit from the extra medics for another decade. In the meantime, foreign doctors will still be required to tackle shortages.
Porter said, 'While it is welcome that he has finally admitted the government has failed to train enough doctors to meet rising demand, this announcement falls far short of what is needed. We desperately need more doctors, particularly with the government plans for further seven-day services, but it will take a decade for extra places at medical school to produce more doctors. This initiative will not stop the NHS from needing to recruit overseas staff.'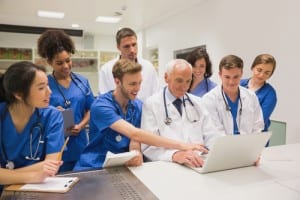 How will these medical school places impact the NHS?
The impact of these medical school places on the NHS is still uncertain, and many argue that an increase in trained doctors does not necessarily equate to an increase in doctors working for the NHS.
Nigel Edwards, chief executive of Nuffield Trust, said: 'for decades, the NHS has failed to train enough of its own staff, so increasing the number of UK-trained medical staff is long overdue.
However, if this new announcement involves simply replacing overseas doctors with UK-trained ones, that won't increase the total number working in the NHS, and certainly won't solve the agency staff crisis that is affecting the NHS right now.'
The new plans will also impact the NHS budget. It may not impact well on aspiring doctors and young medics looking to work for the health service. Shadow Health Secretary Diane Abbott said, 'training more doctors and nurses here is a good idea, but it will need additional money and the Tories are cutting £22 billion from the NHS budget.
The idea we can be self-sufficient in medical staff is ridiculous. An additional 1,500 doctors' training places only scratches the surface of the professionals that are needed to staff our health service.'
Stay tuned for more articles about this story on The Medic Portal over the next few weeks.