Published on 23rd October 2019 by laurenwade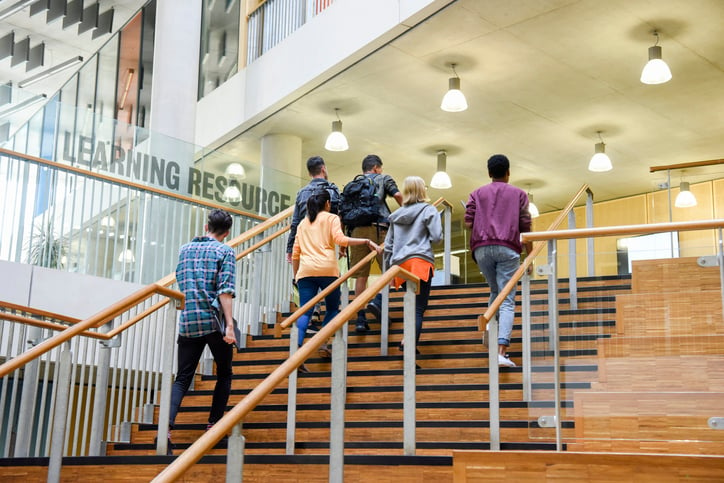 We asked a student studying at medical school in Manchester to document a typical week in their life of studying medicine. Find out what they experienced, from PBL sessions to anatomy classes and everything in between.
Monday 7th October
An early start is always the case on Mondays, as I live at home and so commute into medical school in Manchester. Like most days, I was at the station ready for my 7.25am train. This was until it was announced that my train was cancelled – stress kicked in hugely. At Manchester we are marked as absent for any lates we have, and the fact that I had a 9am PBL class meant that a late was pending. I was lucky enough to have my dad pick me up and take me in, meaning I got to class with a couple of minutes to spare.
PBL cases are the backbone of this week's learning – they cover one aspect of medicine in the form of a patient's 'story' – this week was the case of a pregnant woman who discovered her child had Down Syndrome. During a Monday class we unpick the story and form a learning agenda of things we want to answer through the week.
Luckily, after PBL I had some free time in which I could calm my stress and get a head start on anatomy for this week.
From 3-5pm, I had a class which covered the 'Introduction to physical examination', then I attended an optional Histology drop-in class to go over the previous week's work.
Tuesday 8th October
Although I have a very late start on Tuesdays, I always come in early so that I can get a head start on completing my PBL work. I grab a coffee, head to the learning commons and make myself at home.
From 3-5pm, we have lectures which cover aspects relating to the case theme – today was back-to-back lectures on 'Reproductive technology and abortion' which included the laws and ethics surrounding such.
After arriving home, I have tea with my parents who tell me about their day and ask about mine, before I head to my room to study until late.
Wednesday 9th October
Wednesdays are basically the opposite to Tuesdays, in that we have all our classes (in the form of lectures) from 9-12pm. Today was an exception to this in that one of our lectures was cancelled so we managed to finish at 11am. The objectives of today's lectures focused on the genetic aspects of the case – basic genetics and chromosomal abnormalities with a focus on Down Syndrome.
I then headed to the library after having lunch with some friends at the Students' Union, to complete more of my PBL learning agenda.
From 5pm onwards, I joined my friend in the common room to have some down time and catch each other up on our lives – we both study medicine and are in the same year, but you come to realise very soon that studying medicine makes you very busy and so making time with friends can be difficult.
From 6pm we both walked over to St. Marys Hospital in time for our 6.30pm training evening for CHUMS (Children's Hospital University of Manchester Students). The training lasted until 7.30pm, and covered all the basics that are required for us to begin our volunteering with the society at Royal Manchester Children's Hospital.
Once home, I was frankly shattered so 'hit the hay' straight away!
Thursday 10th October
We are very lucky that at medical school in Manchester we have Thursdays off each week (intended so that we have a day in the week to complete our hospital placement, if scheduled, without missing any lectures/PBL/consultation skills/anatomy).
I make the most of my day off, and get up early and finish of my PBL notes as well as get myself ready for my anatomy class.
If I have the time, I will go for a walk or to the shops in the evening so that I have been out the house and spent time away from the books.
Friday 11th October
Friday is another busy day for me. I start at 9am, with another PBL class but this time being the close to the week. During the hour and a half scheduled class, we discuss the findings we each have for the learning agenda questions. We then decide the chair and scribe for the following case – the students that will take charge of the class and will write down all our ideas – this time myself being nominated to chair!
We then have a brief break in which we can grab an early lunch, before having our final lecture of the week which aims to cover all aspect of the case in a coherent and short overview.
Following straight on from the lecture, I have my anatomy class, so there is a quick dash to ensure I get there on time! Anatomy also follows the case, and so this week was our second week of learning about the female reproductive system with use of prosections and plastic models.
I am always tired by the end of the week, so I usually treat myself to Friday evenings off so that I am ready to start working again on the Saturday ready for the following week.
Want to prepare early for medical school interviews? Book a space on our MMI Practice Circuit!
Book our MMI Circuit
As you can see, studying at medical school in Manchester means you constantly have a busy schedule – there is little time to go on nights out, and making time for friends and family can be hard, but it's not impossible. With the right attitude and ability to work well under time constraints it is doable, and you will have the best work-life balance!
Words: Holly Egan
Read more: