Published on 16th December 2016 by lauram
Ever wondered what studying Medicine at Barts is like? First year medical student Maria Ahmad guides us through her week.
Monday
My alarm clock buzzes and reminds me that it's the beginning of my second week at university. The novelty hasn't worn off and I still can't believe I'm a medical student! I'm excited for today because we officially start the first module at Barts- FunMed (which, somewhat ironically, stands for Fundamentals of Medicine).
The day starts with two lectures: one on an overview of the skeleton and the other about epithelial tissue from a histology (microanatomy) perspective. I'm not quite sure what histology is but I soon find out – it's zoomed in tissue samples and they look like beautiful pink and purple dots!
In the afternoon, I walk to Mile End for my anatomy and physiology practicals. In anatomy, we study the skeleton in more depth and look at prosections with help from the anatomy demonstrators. Physiology turns out to be just like biology practicals at school and we explore the structure of cell membranes. After the practicals, I head back to Whitechapel where the medics are usually based and go to the first session of Language and Culture Society (not just for the free food!) where we introduce ourselves and discuss the upcoming society events.
Tuesday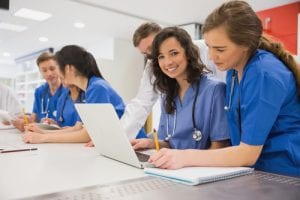 It's Tuesday, which means PBL! PBL stands for Problem-Based Learning, where you discuss a medical scenario in groups of eight people from your year and come up with your own learning objectives based on what you need to learn to properly tackle the scenario. It can be a lot of hard work but is really interesting and definitely worth doing!
We chat about our PBL scenario from last week before moving on to our new scenario. This week it's about a child with bruises over his body – his parents are suspected of child abuse, but his injuries are due to a rare medical condition. PBL feels quite different to school because you're responsible for your own learning, but it definitely makes me feel more independent.
We then head to lectures; one is about homeostasis and the other one explores cultural diversity in healthcare which is a really important topic because London is such a wonderfully diverse city. After lectures, I head back home to do my PBL research and look over some lectures because I know there are a lot of events and societies I want to go to this week!
Wednesday
Wednesday is most people's favourite day at Barts because we get the afternoon off! In FunMed, the day starts with two hours of our Student Selected Component (SSC) and we meet up in our groups to make a poster about a medical topic in the media which we present at the end of the module.
We do get to pick SSC options for later on in the year, which range from mindfulness to dissection to the history of medicine. After two lectures, we're free for the day! Wednesday afternoons are usually the time sports clubs have matches or training sessions but there are many other societies which have events on Wednesday afternoon or evening. After lectures, I go to volunteer with Teddy Bear Hospital; a charity through which medical and dental students teach primary school children about simple health issues such as healthy eating and toothbrushing. It's really fun and the kids make me smile!
Afterwards, I walk to Mile End with some friends and go to a St John Ambulance session. I've always loved to learn and teach first aid and it's been such a great experience in the past that I decided to stay in the organisation during university too.
Thursday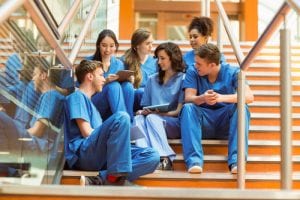 Thursday is my favourite day of the week at Barts. Every other Thursday we have Medicine in Society (MedSoc) which involves going to a GP placement and seeing patients. Talking to patients really makes me feel like a medical student and I love hearing their incredible stories and being in the privileged position of getting a valuable insight into their lives.
In FunMed, each week at Barts has a different theme and the MedSoc day usually follows the theme of the week. Today we followed the theme of the doctor-patient relationship where we sat in consultations and chatted to patients about their relationship with the doctor. I spend part of my evening reflecting on the day, the patients I met and what I learnt from the experience. In FunMed, on the Thursday that you don't have MedSoc, there are other sessions you attend at Barbican about topics such as cultural diversity, basic life support and patient-centred interviewing, which is always great fun – so either way, Thursdays are amazing!
Friday
IT'S ALMOST THE WEEKEND! Fridays in FunMed usually consist of three lectures and then you're free to go home, which is what most people who live fairly close to university tend to do. I stay a bit later and head to the library to do some work or go out with friends.
On this particular Friday, I decide to go to the Fresher's Welcome Dinner with one of my societies, MMD (Muslim Medics and Dentists). I get to know some of the people in my year a bit better and meet many of the older years. It's a great end to the week and reminds me that university life is just as much about enjoying yourself as it is about working – it's important to find the right balance!

Words: Maria Ahmad