Published on 29th July 2016 by Roya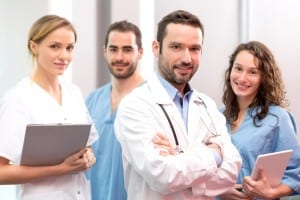 For those considering a career in Medicine, securing work experience in a clinical environment is a vital part of the application and decision-making process. But with the number of applications for medical school increasing and a finite number of work placements available, the competition for work experience has become fierce. In this article, we speak to the Clinical Lead for work experience at a NHS Trust in London on how to secure work experience and which common pitfalls to avoid.
Before we start, could you briefly describe your role and involvement with work experience?
I am a Consultant Physician in an Emergency Medicine Department in an acute London Trust, where I also act as the Clinical Lead for work experience.
I have been involved in providing work experience placements to applicants for both Undergraduate and Postgraduate Medicine for more than 20 years, and I also give regular presentations to school students about a career in Medicine.
Why do you think securing work experience in a clinical setting, as opposed to other settings, is more important for prospective medical students?
There are two principle reasons.
First, in purely practical terms, for most Medical Schools in England evidence of work experience is a pre-requisite of the application process – with some requiring evidence of up to or over 70 hours of work experience in total. Therefore, the inability to demonstrate that experience is likely to adversely affect that candidate's likelihood of being invited for interview.
The second, and perhaps more important reason, is that I believe work experience in a clinical setting (whether in Hospitals or in General Practice) provides the most effective and realistic insight into the rewards and challenges of a career in Medicine.
It allows candidates an insight into the best and worst aspects of being a doctor in today's NHS, as by shadowing doctors closely they will be able to observe the reality of day-to-day practice – such as physical examinations, ordering investigations and treating a wide variety of illnesses.
It also allows students to understand the importance of personal contact in Medicine, by observing how doctors interact with patients, families, other doctors and healthcare professionals.
So how can a student secure clinical work experience?
The first and best place to look for clinical work experience opportunities is the website of each local NHS Trust. Some hospitals provide information about the requirements and application process for work experience online.
For experience in General Practice or other primary care settings, the best option is to contact the practice directly (either by phone or e-mail) to enquire as to their policy on work experience.
Not all hospitals provide work experience placements, so candidates should be prepared to travel for their placements as there is no guarantee that local placements will be available.
Some hospitals work closely with local schools to offer placements, so if in doubt ask your Head of Careers about any available opportunities.
When should students apply for clinical work experience?
The pressure on placements is considerable, particularly within our Department. We do all we can to accommodate students, but to avoid losing out on a placement I would advise students to apply as early as practically possible.
Normally, we have filled up our available placements for the year by late Spring or early Summer, so it is best to be organised and apply at the start of the academic year.
Where possible, we do encourage students to apply for placements up to a year in advance. For example, most of our students applied for placements as they took their GCSEs and then attended once they had entered Year 12.
What do you look for in a work experience student?
First of all, I look for students who are organised and demonstrate common sense. This means applying for a placement well in advance, with a well-written and laid-out CV that contains their predicted grades.
When students arrive, I expect to see punctuality and evidence of preparation for the placement ahead (such as thinking of what questions to ask). I also want to see a genuine commitment towards obtaining the most from the placements.
A good student demonstrates enthusiasm, consistently and proactively engages with the doctors, nursing staff and other healthcare professionals, and shows a strong desire to truly understand the implications of being a doctor.
I'm often surprised that the vast majority of our work experience students can never explain to us why they want to be a doctor. We expect students to have invested some time and thought into their motivations for Medicine, as work experience is often a way to test those motivations and really decide whether this is the career for you.
What should students make sure they do while on placement?
The most important thing for students to do is attend every day of their placement (unless otherwise agreed). You would be surprised how often students cancel placements at the last minute or fail to attend. Given that we have to refuse many other students, such behaviour is unfair to others as well as being unprofessional and disrespectful to the doctors and staff who are dedicating time to sharing their experience with them.
While in hospital, students should carefully observe the working practices of the doctors and other staff members, paying particular attention to the interaction between staff, patients and family members. It is essential to understand how important communication and team-work is to the daily practice of Medicine, as well as the intellectual, physical and emotional aspects of the role. Students should take notes to record their observations, to help them recall their experiences later at the interview stage.
And students should also be conscious of their ethical and moral duties while in hospital. This means respecting patient confidentiality and privacy, treating patients, staff and family members with respect and generally acting in accordance with the standards expected of a medical student or doctor.
And what should students avoid doing?
In broad terms, the more enthusiasm and engagement students show during their placement, the more they will get out of it. That means avoiding arriving late, wearing appropriate clothing that meets the standard and regulations of the clinical environment (bare below the elbows) and demonstrating consistent engagement by asking questions and being proactive.
It sounds like common sense, but students must avoid acting in a flippant or disinterested way during their placement. You would be surprised how many students attend our Department without asking any questions to our staff members about what life is like in Medicine.
This is your opportunity to learn more about a career you will need to dedicate a significant portion of your life towards. The staff are taking the time to help you make an informed decision and succeed in your application. It's up to you to make the most of that opportunity.
Thank you for your time, I'm sure you've given future candidates plenty of food for thought!
Uploaded by James on X June, 2016