Published on 16th November 2016 by lauram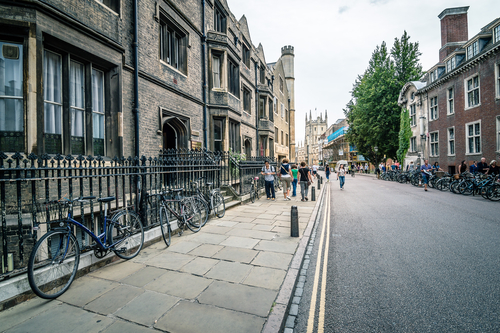 Ever wondered what studying Medicine at Cambridge is like? Third year medical student Freya Smith guides us through her day of rowing, lectures and dissection.
It's 8.30am on Thursday morning and I've just got back from the college boathouse. It was an early start today – we were on the river by 7am! It's such an inspiring way to start the day, though – the Cambridge countryside is so beautiful and, despite my constant complaints about the cold, rowing is actually quite good fun! However, it does have a nasty habit of making me extremely late, so I'd better grab a quick slice of toast and cycle to my lecture…
***
I made it – the first lecture today is Biochemistry, or MiMS, as it's known here in Cambridge. That stands for 'Molecules in Medical Science' and encompasses topics from protein structure, to bioenergetics and metabolism, to genetics. Today's lecture is going to focus on cell signalling in disease states – I had a look at the handout last night and it looks really interesting.
People have very different ways of taking notes in lectures; some people bring their laptops and take notes on everything the lecturer says, but I find it more useful to print out a copy of the lecture slides beforehand and annotate them with any extra information during the lecture.
Read 10 things you might not expect from life at med school>>
***
I was right – it was a very interesting lecture! However, as I've got used to since being at university, there were a few moments where I wasn't entirely sure what was going on, so I'll spend some time reading over those later. I'll probably borrow a textbook from the college library and read around the trickier parts, just to consolidate my understanding. It's always a good idea to try and read more about the lecture topics – if you find any papers particularly interesting, you can write about them in your end-of-year essays, the examiners love it!
I'm at the Anatomy Department now, we have a dissection session. The opportunity to do full-body dissection was one of the reasons I chose Cambridge medical school – it allows you to study human anatomy in so much more detail than simply using a textbook. I'll admit, I found the first couple of sessions rather challenging, as I'd never seen a cadaver before, but everyone quickly gets used to it! At the moment we're studying the thorax, so today we'll be removing the ribs so that we can examine the heart and lungs in more depth.
We're given a Dissection Manual which takes us through the instructions for the session, but apart from that, it's up to us to use the time as we feel would be most useful. I'm quite an independent worker, so I tend to take part of the session away from my subgroup in order to examine the posters and annotated photographs around the room, to ensure that I understand everything fully.
---
Which fictional medic are you most like? Take the quiz and find out!
Take the quiz!
---
It's now 2.00pm and I've just arrived at my afternoon lecture. We were all ready for lunch after a tiring morning, so headed back to college for a hot meal. It's great to have that hour to relax in the middle of the day – sometimes you just need to take time to talk about something other than Medicine! The next lecture is SCHI, or the Social Context of Health and Illness.
While the Cambridge course is clearly divided into pre-clinical and clinical medicine, we still have some opportunities throughout the first three years to interact with patients, and SCHI is one of these opportunities. Every week, a patient with a certain health condition will come to give a lecture and we will explore the personal and social aspects of their situation. I find these lectures to be a great source of motivation – seeing patients and hearing their stories reminds me why I chose to study Medicine in the first place.
Read 10 things to do to prepare for life at med school>>
***
I'm done for the day! It's 3.00pm now so I'm going to spend a couple of hours in the library before dinner. I'll read over the notes I made in lectures today, and might have a go at planning an anatomy essay to see how much of today's dissection I can remember. As if today hasn't been busy enough, I've got orchestra rehearsal straight after dinner, so I'd better get on! Until tomorrow…
Words: Freya Smith
Want more information about starting at med school?