Published on 5th March 2018 by lauram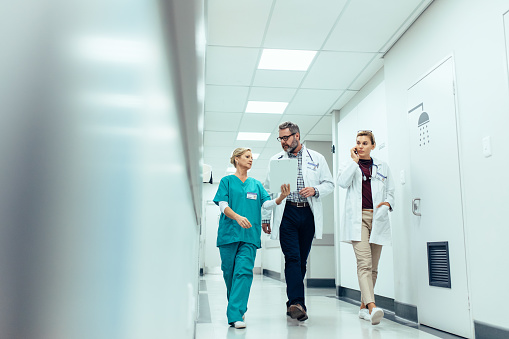 Work experience places fill up fast, so if you leave it to the last minute you might be lucky to even get a place, let alone one in a department you're interested in. Here are five tricks to help you secure the right placement for you!
Sitting the UKCAT this summer? Book your space on our one-day UKCAT (UCAT) Course!
Book our 2019 UKCAT (UCAT) Course
1. Work out what you want – and do it early!
The earlier you apply, the more likely you are to have a good choice of placements and you'll be able to work out what you're most interested in. It might be you want a general placement if you have no idea what you'd be interested in (or, if you have lots of interests!), or you might want something really specific, like paediatric neurosurgery.
The more specific the experience you want, the longer it's going to take to organise – so be aware and start planning and contacting people early. Hospital doctors and coordinators are often very busy and might not check their emails regularly, so the earlier you get in touch, the more of a chance you have to follow up with them if they don't respond first time.
The earlier you start doing work experience, the more time you have to do further experience if you're not too sure. If your first placement isn't quite what you expected, you'll have time to organise another to see if medicine really is for you.
See how to use voluntary work experience in your medicine application>>
2. Contact lots of people
Doctors get hundreds of emails. It only takes a few minutes of them being liberal with a delete button (or an overactive spam filter!) for your message to get missed.
If you can, get in touch via phone or face to face, as it's harder for them to ignore you and you can get everything sorted at once instead of exchanging one detail at a time via email, with numerous opportunities for them to drop off the face of the planet.
The more people you contact, the more chances you'll have for a placement to work out. Even if the person you contact isn't directly the person you need, they may be able to pass you on to the exact person that will help you get experience in your dream department.
Even if they can't help you out with shadowing, there may be opportunities for other kinds of medical experience.
How much work experience do you need for a competitive application? We speak to six students here>>
3. Ask your local medical school
Your local medical school should have a medical society for their medical students. These societies help their students to get experience, and part of their remit is to widen access to medical school and help local students to get shadowing and research work.
They have vast networks of contacts in all sorts of departments and might be helpful in working out what kind of placement you want and how best to get it.
They'll have more direct routes to getting shadowing and research experience than going through hospital administrators, and will know the system to enable you to get what you want in the easiest way.
Read how one student got into medicine without hospital work experience>>
4. Don't limit yourself to hospital medicine
Doctors don't just work in hospitals, and medical work experience isn't just about how long you can spend following a doctor around a ward. Some doctors work in the community, going out on home visits and running clinics in local centres; some are GPs; some spend time working in research labs, teaching in universities or working in urgent care clinics.
Getting a good understanding of the different roles a doctor can play is an essential part of applying for medicine, and if you can demonstrate that you have experience with it, it's only going to be a positive.
Non-hospital doctors often have more time for students as well and their placements tend to be easier to organise. Students don't tend to think of these sorts of placements either, so having something slightly more unusual on your application can work in your favour.
Don't limit yourself to working with doctors either! Getting a good understanding of how lots of healthcare professionals work together in a multidisciplinary team is crucial to understanding the job of a doctor.
A week on a ward will give you a good view of how nurses, doctors, healthcare assistants, physio and occupational therapists all interact to provide the best possible care for a patient.
Understanding the roles of each of the other professionals is a common topic at interview and it's good to be able to show that you've considered other healthcare jobs and still chosen medicine.
Read 5 biggest myths about medical work experience>>
5. Be persistent
Don't be disheartened if you don't receive many responses, or get a lot of rejections. It only takes one placement to work out!
Unfortunately medical work experience is highly sought after and the teams involved are often very busy, and may not always have time to take on extra students. It doesn't mean there aren't teams out there willing to have you with them!
Use your rejections to ask for contacts that might be able to help you out, and show dedication to getting what you want – after all, that's what you're going to have to do as a medical student and doctor.
Words: Katie Hodgkinson
Like this? You'll love: