Published on 2nd July 2020 by Premela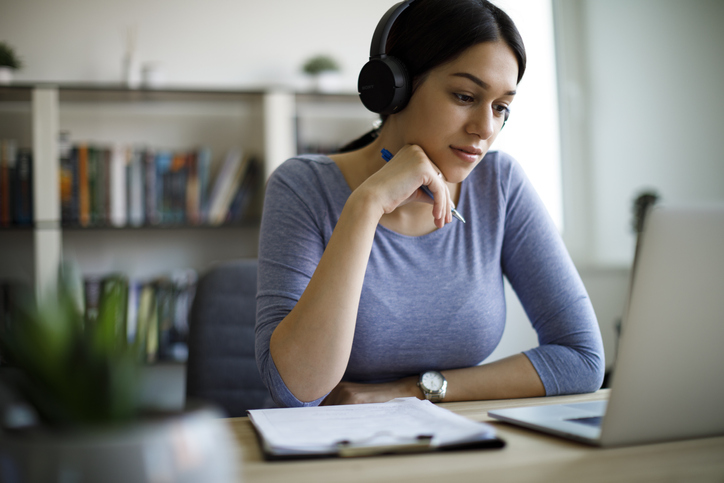 2020 has turned out to be a very different year to what almost everyone expected, with a lot changing in all aspects of our lives.
One thing, at least for the immediate future, is becoming more common: online exams.
It is important to remember that many students, sitting all kinds of exams are now having to do these online and it is really nothing to worry about, even if this is your first one.
Here are a few things worth bearing in mind if you plan on taking UCAT 2020 online:
1. It's the same test
Although the logistics, and testing environment may be different, the sections, questions and timings will be the same as always – a two hour test broken down into five sections: verbal reasoning, decision making, quantitative reasoning, abstract reasoning and situational judgement.
Each section (apart from situational judgement) is equally weighted (scaled scores between 300 and 900 are given) and situational judgement result is given from band 1 ('highest') to band 4 ('lowest').
The way universities consider the situational judgement section differs to the numerical UCAT score – it's worth checking the university websites for this.
2. Run a systems test
Replicate the conditions you will have on test day. This is to check your connectivity is good enough and you have the minimum necessary equipment (i.e. a functioning laptop with a webcam, microphone) so you will be able to do UCAT online.
Make sure you do this before booking a UCAT test. You will also have to do a system check on the day of your test to make sure everything is in good working order for you to test.
3. Register and book a test date
You need to register for UCAT (make an account with Pearson Vue) yourself (i.e. your school cannot do this for you) before you can book a test. You must book a test (on a specific date) even if you plan to take the test online from home.
4. It is an online-proctored test
This means you will do UCAT in a secure browser (so you cannot open any other windows or software whilst doing the test) and have a trained invigilator watching (via webcam) and listening (via microphone) to you to make sure you don't cheat or break any other exam rules.
They can end your test at any point if they detect such behaviour and if this is suspected, the recording can be reviewed and your results revoked and a report sent to UCAS and universities if you are deemed to have cheated.
5. No-one else can be in the room
UCAT has some workspace requirements if you are taking the test from home.
These include the room being walled with a closed door and no-one else being in or entering the room whilst you are testing.
You must do a room scan for your 'greeter' before the test begins and if you do not past you will be unable to take the UCAT as planned. Make sure you have a clear workspace before your test to avoid any issues here. You also cannot leave the room whilst testing.
6. No pen and paper for notes
You may use a physical erasable whiteboard up to a maximum size of 30cmx50cm whiteboard, have two pens and one dry-erase eraser only in addition to UCAT's onscreen scratchpad.
No other writing implements, paper, marked whiteboards, chalkboards etc. are allowed.
7. Water only
You are allowed water in a clear glass, but no other food or drink.
Remember, although this test can be taken at home, it is just like any other public exam such as your GCSEs!
8. Photo ID
This must be from UCAT's acceptable list and shown during online check-in
for your test (i.e. on the day).
If you are under 18, a valid student ID also counts.
9. Parent/guardian presence
If you are under 18, a parent/guardian must be present at check-in (before testing begins) to give consent for you to take UCAT.
They must also provide an additional form of ID from the list.
You can order a provisional photocard driver's license online which takes around a week to arrive – if you need to do this, make sure you leave enough time before your test date.
10. You don't have to do the test online
There is also the option to do UCAT at a test centre, so if you would prefer this or are unable to do UCAT online, it's not a problem!
Although be advised that due to uncertainty caused by COVID-19 has been so far, test centres may close at any given time.
UCAT have a long, but helpful guide on their website – it is definitely worth a read to make sure you understand the 'fine-print' details of the test. Good luck with your UCAT!
Written by: Nafisa Barma