Published on 25th April 2016 by Roya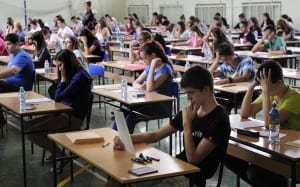 In the words of Nick Robinson from The Telegraph: 'Education rarely stands still'. Never more so, it would seem, than following the most recent shake-up to the A level examination system whereby schools and colleges will now offer a Linear examination system starting in many schools in September 2016.
Under this new reform, AS levels will be "decoupled" from A levels, new 2-year Linear exams will be introduced and A levels themselves will be changing in content, with the changeover process likely to last around 3 years as schools and colleges phase out AS levels, presenting a headache both for the schools trying to maximise their pupils' chances of success and admissions departments sorting between pupils coming from two examination systems for the 2017 entry to university.
The Medic Portal has become aware that many teachers are unsure how the new A levels will impact on their students' chances of getting into highly competitive degrees, including Medicine. The general picture is one of confusion, with schools unclear how to approach admissions departments if they have adopted the new A level policy, and different admissions departments treating the presence of two examinations systems differently.
Looking to provide helpful advice to schools, we set out to better understand the situation, approaching 4 Medical Schools at random to get their view on the Linear A level system and to see how their entry requirements would be different for applicants in 2017. See below how Edinburgh, Birmingham, Manchester and UCL are treating the latest educational upheaval, and adapting their entry policy accordingly.
The first Medical School we approached, Edinburgh, made clear that schools whose students will be sitting a Linear examination system where students sit up to a maximum of 3 A levels will need to provide written confirmation of this in a letter to the admissions department, before a UCAS application has been submitted.
The letter must state the student's name, their date of birth and confirm in writing that the college only offers 3 A levels. The document should be signed and printed / written on school headed paper. The letter can be scanned in and attached to an accompanying email to Edinburgh admissions office.
In addition, the admissions advisor we spoke to detailed that this information should also feature in the academic reference written for the student by the school.
A level requirements are AAA for all applicants, with a fourth subject to grade B at AS if the school offers AS Levels in addition.
Second on our list was Birmingham Medical School, which will differentiate between the two academic systems by offering two different minimum entry grades. If an applicant sits 3 A levels, they will need to achieve A*AA, and if they sit 4, they will need to achieve AAAB.
Birmingham disregards AS levels, stating on their admissions page: "selection for interview will neither be influenced by taking more than three subjects nor by achieved AS or A level grades."
For entry to Manchester Medical School, the grade requirements are 3 A2s, predicted at grade A. If a school does offer AS levels, students will need to have studied a fourth subject up to AS level in addition to their 3 A2 grades.
Similarly to Edinburgh, Manchester Medical School's website requests written confirmation of the Linear A level system before they will consider an application: "we are aware that the curriculum for some schools will only allow three AS subjects to be taken or that some schools may no longer enter candidates for AS Level qualifications. Students not offering any AS subjects or those only able to offer three, will not be disadvantaged if written confirmation of this policy is provided by the school."
Finally, UCL stated that A level grades required are A*AA, to include chemistry and biology, applying to all applicants irrespective of the A level type. The A* grade must be in either chemistry or biology. AS levels would only be taken into account if they reflected negatively on an applicant's academic standard.
Our advice for students studying Linear A levels
So what do schools need to be aware of so as not to adversely affect the chances of their aspiring medics if they have chosen to go with the new Linear A level course? What became clear is that there isn't one single, uniform way that Med Schools will adapt to the new A level system, with Edinburgh and Manchester requesting confirmation in writing that their students could only sit three A levels, Birmingham having two entry requirements depending on number of A levels taken, and UCL not differentiating between the two.
The Medic Portal advises applicants for 2017 to check the individual policies of the relevant Medical Schools, both on the website and by ringing in if necessary – particularly as the initial teething problems of an educational overhaul are overcome.
Uploaded by Rich on 25 April 2016