Published on 8th December 2017 by lauram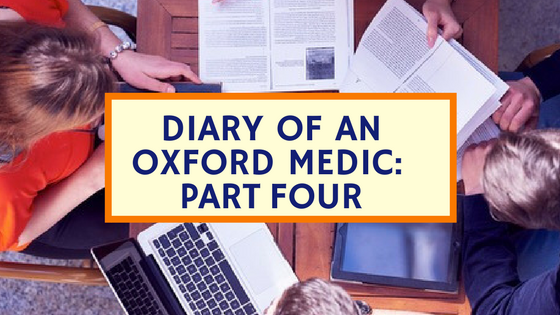 Michaelmas term is over. The term in numbers:
And now we have packed up our room ready for the next generation of medics to interview – good luck to all of you!
Vacation
Christmas holidays have begun. Oh sorry, not holidays – VACATIONS. Because as our tutors have stressed, this is the period where you VACATE Oxford and work somewhere else.
It's an interesting balance because the vacation is so long – 40 whole days – but equally there is an unbelievable amount of work that your tutors and lecturers and practical instructors have been telling you "is very very important to do, but wait till vac because you don't have time now", not to mention actually learning the millions of facts you hastily scribbled down during lectures and indeed the lecture information itself.
And unfortunately, we do need to learn it because next term we will be welcomed back with 6 hours of exams in one hellish Friday!
What are Collections?
At the start of every term you have Collections which are exams on the material you covered in the previous term. While these do not count towards your actual degree they are important in order for the college to assess your progress, and some colleges give monetary prizes for good results.
For medicine, the Collections are in two parts – there are Formatives which are multiple choice factual questions taken on the computer, which are set by the medical school and are the same for all colleges. This is the equivalent of Part A exams in the real end of year exams. They are pass/fail, you just need to get a certain percentage, usually around 70%.
The second part is set by your college and, for Christ Church, is a combination of short answer factual questions and a selection of essay questions which you choose one or two from, equivalent to Part B in the real exam.
Revision
Revising for university is an interesting experience of not knowing where to begin because there are just so many sources – you have your lecture notes, your tutorial notes, a huge selection of textbooks, Oxford Handbook of Medical Sciences (which is essentially your syllabus but in less detail than the back-breakingly heavy alternatives) and, of course, the internet.
You somehow have to condense all this information into a learnable set of notes, which means deciding which information you are going to ignore – quite a stressful process. The syllabus for Oxford medicine comprises a left and right hand column:
The left hand side contains the core material which could be tested in Part A factual recall.

The right hand column contains useful extension material which will help you get the top marks in the essay subjects.
We have been told it is impossible to learn everything on the syllabus in the detail required to get top marks in all the essays so it is a good tactic to learn all the core material in order to score well on Part A and then choose some topics that you are naturally better at and learn the extension material for them. You then hope and pray that the essay topics that come up include these subjects.
So, I hope you've enjoyed hearing about my first term at Oxford and that it gave you a bit of insight into what medical school is like, and whether it really is something you'd enjoy.
Personally, I can say (now that I've spent a good few days catching up on sleep and am capable of a coherent thought) that it has been an incredible experience and I'm sincerely so excited for the next 17 terms!
Words: Irene Mathias
Interested in reading more about studying at Oxford? Read the rest in the series: