Published on 16th August 2018 by lauram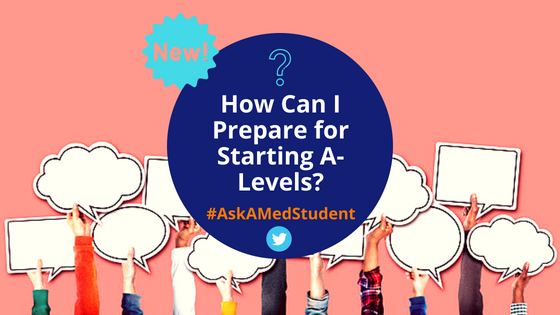 Welcome to our brand new blog series, #AskAMedStudent! Every fortnight we'll be asking your questions to a current medical student, who will answer them in a blog. So, what would you love to know about applying to medicine?
Ask us a question
Question: How can I prepare for starting A-Levels?
You honestly don't need to go ahead and do any A-Level work in advance, I didn't and you won't necessarily be at a disadvantage if you don't. This summer is the last summer of freedom you'll have, as next year you're going to be busy doing your UKCAT and writing your personal statement (and the list goes on!). so just enjoy it and completely relax!
However…if you are still determined to do something, I'd say to make sure you know the GCSE content for your sciences really well, particularly the triple science units. You'll be so glad you've done this when it comes to starting, especially for A-Level Chemistry as about half of year 1 is covered in the triple science units. Make sure you're properly up to scratch with it all so when it comes to building up on presumed GCSE knowledge you're not struggling.
There's also a series of books you can get from CGP called "Head Start to A-level", which is supposed to bridge the gap and give you a boost on to starting A-Level.
---
Try one of our quizzes:
---
Finally, something else you might want to spend some time doing this summer is reflecting on how your GCSE revision and exams went (after all, they were your first official set of exams). Which study techniques worked for you and which didn't?
That way you can get started on thinking about how you think you'd work best for A-Level. With A-Levels it's really important to make sure you're doing everything as you go along, throughout the year. Buy yourself all the stationery, pens, notebooks, everything you need in advance so you're prepared to stay on top of your work and remain organised all year round.
Have a great summer and good luck with A-Levels!
Masumah is a 1st year medical student at the University of Manchester. She writes a blog documenting her experience through medical school and also giving tips to aspiring medics: lifeofamedic.com
Want more tips on GCSE and A-Level requirements for Medicine?